Birth: Callie Renee Donnelly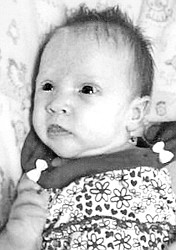 Birth: Callie Renee Donnelly
Rob and Stacey (Bothman) Donnelly announced the May 21, 2010 birth of their daughter, Callie Renee Donelly.
The baby was born at 1:57 p.m., at Sheridan Memorial Hospital in Sheridan, Wyo. She weighed 7 pounds, 2 ounces and measured 20 inches in length.
Maternal grandparents are Rocky and Georgia Bothman of Libby. Maternal great-grandmother is Marge Bothman of Green Valley, Ariz.
Paternal grandparents are Tim and Darci Donnelly of Miles City. Paternal great-grandmother is Pauline Leidholt of Miles City.
---