Trojan sports collections now online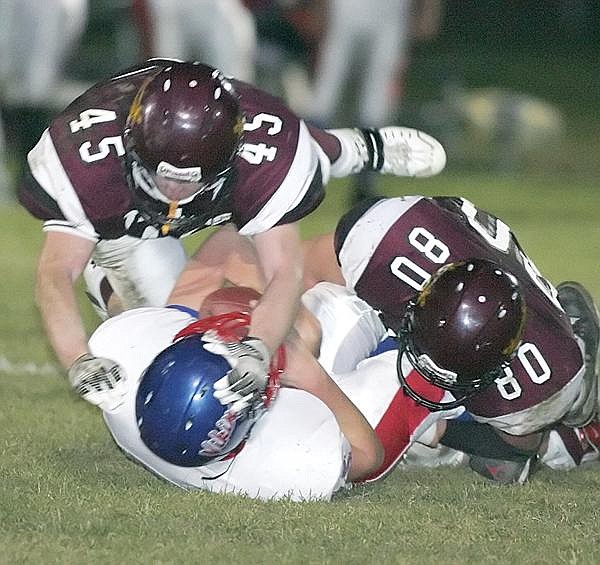 Paul Sievers/The Western News Jake Alexander (45) and Kody Hoffman (80) of the Trojans take down Connor Coleman of Bigfork during the second quarter.
by
Brad Fuqua & Western News
|
July 2, 2010 10:35 PM
In an effort to allow Trojan fans easy access to reviewing the 2009-10 sports seasons, The Western News has created "collections" for each team. Click on the link to review stories and photos for that particular sport. Or, scroll down the home page to see the various sports and simply click to go to that team's page.
TROY FOOTBALL 2009
http://www.thewesternnews.com/sports/troy_sports/collection_38b7f118-8653-11df-b0c4-001cc4c03286.html
TROY VOLLEYBALL 2009
http://www.thewesternnews.com/sports/troy_sports/collection_37d3a5f0-8656-11df-b8e7-001cc4c03286.html
TROY BOYS BASKETBALL 2009-10
http://www.thewesternnews.com/sports/troy_sports/collection_a70ff3a0-8657-11df-bd8e-001cc4c03286.html
TROY GIRLS BASKETBALL 2009-10
http://www.thewesternnews.com/sports/troy_sports/collection_34b14c84-865a-11df-9117-001cc4c03286.html
TROY TRACK & FIELD 2010
http://www.thewesternnews.com/sports/troy_sports/collection_ee2bff60-865a-11df-bf25-001cc4c03286.html
TROY TENNIS 2010
http://www.thewesternnews.com/sports/troy_sports/collection_60ae199c-865b-11df-af7d-001cc4c03286.html
TROY SOFTBALL 2010
http://www.thewesternnews.com/sports/troy_sports/collection_f11259c6-865b-11df-985e-001cc4c03286.html
---