Grizzly bear released near Spar Lake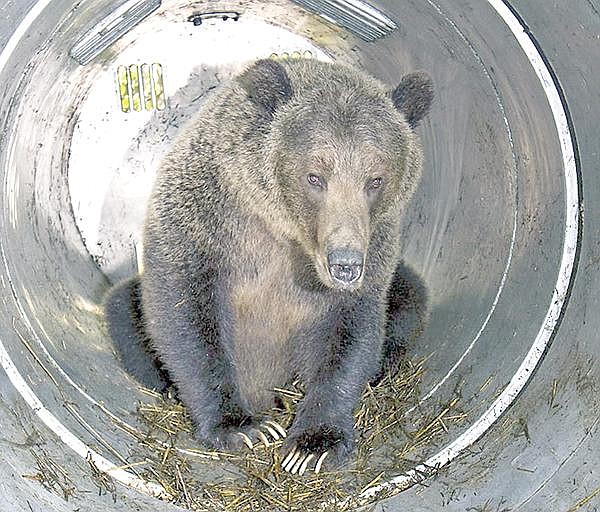 Courtesy/Derek Reich The female grizzly sits in a culvert trap before wildlife officials attached a GPS tracking collar.
by
Western News
|
September 22, 2009 12:00 AM
A grizzly bear was released near Spar Lake, south of Troy, on Friday as part of an ongoing program to increase the Cabinet-Yaak grizzly population.
Montana Fish, Wildlife and Parks biologists captured the 325-pound adult female bear on Thursday in the Whitefish Range, about five miles north of the Big Mountain Ski Area. U.S. Fish and Wildlife Service officials fit the bear with a GPS tracking collar, which will identify its location four to five times per day, and released it into the Cabinet Mountains.
Wayne Kasworm of the U.S. Fish and Wildlife Service said that the agencies chose a bear from the Whitefish Range because the habitat and food resources were similar to that of the Cabinet Mountains.
"What we're looking at, for instance, in the Cabinets is bears rely a lot on huckleberries," Kasworm said. "… We want to make it as easy as possible for a bear to adapt to a new area."
An estimated 40 grizzlies inhabit the Cabinet-Yaak ecosystem, which encompasses more than 2,500 square miles in the Yaak River drainage and Cabinet Mountains. The transplanted bear is the only collared grizzly in the Cabinets. The area's remaining three collared grizzlies were caught and released in the Yaak drainage over the summer and fall.
A 3- or 4-year-old female grizzly was caught, collared and released in the South Fork of the Yaak on Friday. The two remaining bears were fitted with replacement collars because the ones they wore were scheduled to detach this year. One bear, an adult female, was first captured in May near the Canadian border. The other, a 3-year-old female, was originally collared in 2007. 
In addition, several black bears have also been fitted with tracking collars as part of comparative habitat use research.
U.S. Fish and Wildlife Service will conduct regular radio tracking flights to check the progress of collared bears in the Cabinet-Yaak recovery area, the agency said. The monitoring flights can download data from tracking collars to learn about the animals' movements.
Tracking collars help biologists study behaviors of the animals and learn whether or not population augmentation efforts are working.
"It's our means of monitoring the animal and knowing, in this case, where animals are going and whether or not they're alive," Kasworm said.  "… With females, we can track reproduction, whether or not they have cubs or lost cubs."
In addition to trapping, the agency placed hair-snagging installations at different Cabinet Mountain sites, most of which were equipped with remote cameras to capture photos of the animals.
"We were fortunate to obtain pictures and hair of grizzly bears at several of these sites," Kasworm said.
Lab analysis of this summer's samples will be conducted over the winter, but genetic analysis of hair samples from 2007-08 reveal that at least one of four grizzlies that were transplanted to the area between 1990-94 is still alive and in the Cabinet Mountains. The bear, referred to as 286, was transplanted in 1993.
"We know from hair snagging that at least one of those bears – 286 – is still out there and reproducing," Kasworm said. "Not only that, but her young have survived and have produced young of their own. In human terms, 286 is a grandmother."
---