Golf: Watson takes 1st at Libby Invite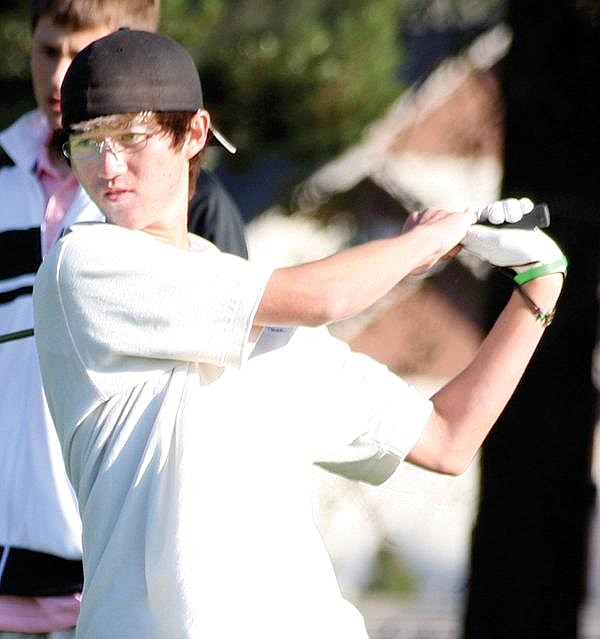 Brad Fuqua/The Western News Zach Watson tees off during the Libby Invitational on Saturday. Watson shot a 77 to take first place.
by
Brad Fuqua & Western News
|
September 21, 2009 12:00 AM
Going up against an exceptional field of players on the home course at Cabinet View Country Club, Loggers senior Zach Watson wanted to go out with a bang in his final appearance at the Libby Invitational.
Watson did just that by putting together a round of 77 on Saturday for first-place honors. Jimmy Mee last won the tournament for Libby in 2007.
"I'm not surprised with the way Zach has been playing," LHS golf coach Dann Rohrer said. "That was one of his goals (to win) … we talked about that last week and to have it play out and come together, that was fun."
Watson finished one stroke ahead of Columbia Falls' Tanner Lineberry and two strokes ahead of Polson's Cody Fischer. The rest of the top 10 shot in the 80s.
"There were some good players he was going up against," Rohrer said. "It was a good field and it's a tough golf course."
With Cabinet View's old nine holes in the midst of a cleanup project, the tournament was limited to the new nine holes.
Louis Cielak shot a 93 for Libby's second-best score in the tourney. Chris Campbell came in with a 98, Carson Whitmarsh had a 98 and Byron Benefield finished at 112.
Polson won the boys team title with a score of 331. The Whitefish junior varsity took second with 338, followed by Columbia Falls (354), Libby (363) and Ronan (400).
The Libby girls did not have enough players to compete for a team title but a couple of individual performances caught the coach's eye.
Candace Hendrickson shot a round of 114 to place seventh and Sara Kristianson came in with a 127 to place ninth.
"I'm really happy for Candace and Sara," Rohrer said. "That was just an unbelievable score for Sara. She just started playing this year and was shooting in the 170s. She's dropped 40, 50 strokes … 127 is a good score."
The Loggers' Chelsea Oedewaldt shot a round of 137. Taylor Barton was absent for family reasons.
Polson was the only school to field a full squad and thus won the team title with no competition.
Libby's golf squad will be busy over the next week with trips to Polson on Thursday and Hamilton on Saturday. The team then starts off next week with an appearance on Monday in Frenchtown.
---