Volleyball: Trojans defeat Thompson Falls for 7-B victory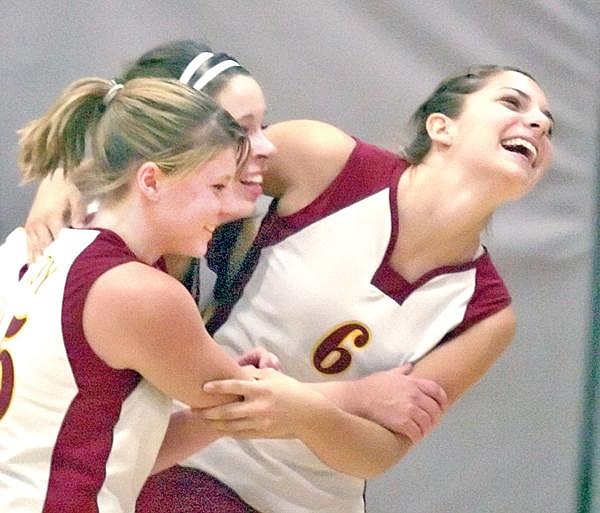 Paul Sievers/The Western News Troy's Jessica Lyons, from left, Michaela Curry and Alyssa Olds celebrate Thursday night's win over Thompson Falls.
by
Brad Fuqua & Western News
|
September 15, 2009 12:00 AM
Those timeouts can work wonders.
After dropping the first game by 10 points and trailing 17-14 in the second after a mini-run by the opponent, the Troy High School volleyball team needed to turn things around on Thursday night against Thompson Falls.
Head coach Sandra Jansma called a TO after the Bluehawks' Kyla Molzhon sent a spike bouncing off one of her players and into the stands. The Trojans needed a shift in momentum.
"We've been struggling since the preseason tournament with our receiving and getting our hitters to hit," Jansma said, referring to the team's 0-3 start in District 7-B. "Tonight, things started to click for us."
Coming out of the timeout, senior Ashley Paasch got a kill for sideout and then fellow senior Kristin Parks followed up with back-to-back hits for points. Just like that, the game was tied and it served as a springboard for the rest of the evening in a 15-25, 25-20, 25-23, 25-19 victory.
"They just have to find their groove," Jansma said of her players. "We have 10 players suiting up for us and each person brings something different to the team. And it's taking time to find out what that role is."
Troy needed a victory in the worst way against the Bluehawks. The Trojans had gone down to defeat three times over the previous seven days with setbacks to Mission, Eureka and Bigfork. Thompson Falls got a good dose of Parks and Paasch on Thursday.
Early on, Thompson Falls put on a display of accurate hitting and point-saving digs that the Lady Trojans could not match. The Hawks' Jessica Wadsworth had an early block for a point and Molzhon had a nice run of kills midway through the opening game, which ended with three out of the last four points coming on hits by Hannah Peters.
The Lady Trojans noticeably turned things up a notch in the second game and rolled out to an early 4-0 lead, which included a block by Paasch and a kill by Parks. It was a sign of things to come.
Thompson Falls came back to tie game two, 4-4, and then the points flew back and forth. Then the Hawks got some breathing room with four straight points. That's when Jansma called the timeout.
Following the break and the kill by Paasch for sideout, Troy reeled off six straight points with Paasch serving. Besides powerful hitting from Parks, the Bluehawks began to make mistakes with net violations and illegal hits.
Thompson Falls got back to within 22-20 but the Lady Trojans closed out game two with Parks serving. Freshman Michaela Curry got a kill for point 24 and the Bluehawks couldn't handle Parks's serve on the final point.
The two teams battled back and forth in the third game although Troy led, 11-7, at one point. Neither could sustain much of a run and it seemed as though the team that made the fewest errors would win. The Trojans scored three straight late with a sideout, Curry dink and Kimmy Klin kill. The Bluehawks countered with two straight points but Troy nabbed the game on another dink by Curry.
In the fourth game, Troy seemed to be in control most of the way although the Bluehawks had opportunities. The Trojans trailed 10-8 at one point only to go on a 7-1 run. That stretch included Paasch and Parks kills and an ace serve by Curry.
Thompson Falls never recovered and the Trojans put the match away with a strong finish. The winner came with Jessica Lyons serving and a long hit by the Hawks' Molzhon.
On the stat sheet, Parks had a team-high nine kills to go along with three ace serves. Paasch had seven kills and three blocks. Klin was in on 14 of the team's 21 set assists. Megan Cummings had 10 digs and three ace serves. And Lyons also had 10 digs.
On Saturday in a meeting at Eureka, the Lady Trojans played well in a 25-20, 25-18, 25-22 loss to senior-heavy Florence. The Falcons got a big match from Chelsea Ralls, who had nine kills and four blocks.
For Troy, Parks and Ashley Suber each had five kills and one block. Jackie Pepiot also had a block. Parks had a team-high 10 digs, Alyssa Olds recorded all 14 of the team's set assists and Paasch served four aces.
Troy (1-3, 1-4) will play Valley Christian and Loyola Sacred Heart in Missoula on Saturday.
---