Not just for boys anymore: Forster kicks up storm on gridiron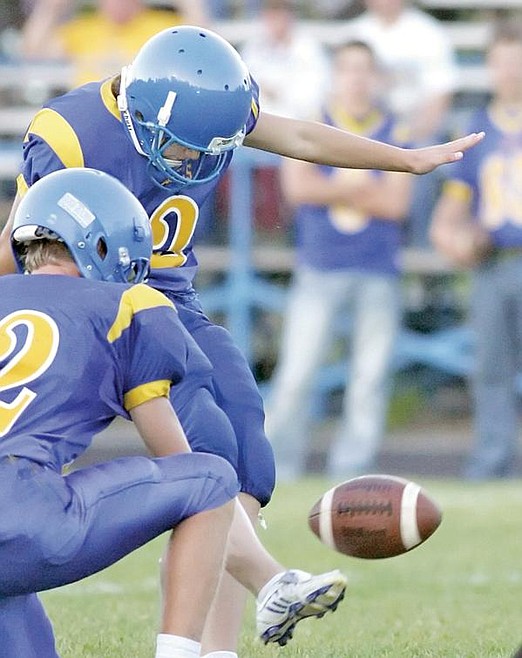 Paul Sievers/The Western News Kaila Forster hits her first extra point of the evening on Friday against Corvallis.
by
Brad Fuqua & Western News
|
September 15, 2009 12:00 AM
Hauling in a two-point conversion pass against Corvallis on Friday night, Libby's No. 2 celebrated with teammates while coaches on the sidelines displayed ear-to-ear-grins.
The fake out of kick formation occurred with 3:55 left in the third quarter and gave the Loggers a 36-14 lead. Although those facts may lead one to question the importance of a two-point conversion at that stage of the game, everyone in the house knew that it was a special and one could say, historic,  moment.
No. 2 is Kaila Forster – and if you can't tell by the name, she's a female.
"We never really talked about it," Forster said about the possibility of becoming a receiver on a two-point conversion. "As far as I was concerned, I was just running off to the sideline and getting out of the play. And then the other day at practice, we threw it in there. So, now it happened and it was good."
Forster endured a hit from a Corvallis defender in the corner of the end zone.
"It didn't hurt … at all," she said.
The inclusion of girls on football teams is not as uncommon as it used to be and has even been seen at the major collegiate level. In the case of Forster, however, she's likely the first-ever female in Logger history to suit up as a varsity starter. The 5-foot-6, 130-pound senior finished preseason drills No. 1 on the depth chart at placekicker (on PATs).
Forster, 17, believes the idea to play football took hold last year when assistant football coach Jim May made a comment.
"Last year during soccer after one of our home games, Mr. May mentioned something about kicking," Forster remembers. "I don't know if he really meant it or not but it got the idea into my head and we went from there."
Forster approached head coach Neil Fuller during summer weightlifting.
"She asked me, 'what's a good kick for a field goal in football – yardage-wise?' and I said, 'I suppose around 30 yards or something,'" Fuller said while trying to recall the conversation.
Fuller, May and Forster then headed out to the football field.
"We go outside and Coach May holds for us and she starts kicking. And the first time she kicked, she kicked a couple of 30-plus yard field goals," Fuller said. "She said she'd like to try to kick and I said, 'great, it's been a long time since we've had a good kicker.' In fact, we haven't had a very good kicking game since I've been here."
Forster converted on 6-of-6 PAT attempts against the Blue Devils to go along with her two-point conversion.
"We threw that in last night," Fuller said, referring to Thursday's football practice. "I told her, 'just run kind of a banana around; just swing up the sideline there.' We were doing it kind of half-jokingly but you never know because a lot of times, they'll just ignore the kicker. Fortunately she didn't get her head ripped off … the kid hit her good."
Forster is the first in her immediate family to play varsity football. She has no brothers, only sisters, and said her dad wanted to play when he was a teen but was not allowed by his mother.
"I love it. Every game is more experience and it's fun," Forster said. "You stand on the sideline and really get into it … it's great."
Forster first tried an extra point in the season opener at Timberlake, Idaho, but missed. Libby didn't reach the end zone in week two. In a junior varsity game, Fuller trotted her onto the field for a field goal attempt.
"She kicked a 24-yard field goal in the JV game against Timberlake on Tuesday and it would've been good from 40; she just boomed it," Fuller said. "That's not something we're afraid to use out there."
Fuller said he almost sent her out for a field goal in the second half on fourth down in the red zone against Corvallis but opted to go for it.
"But if we get close, we won't hesitate to use her to kick a field goal if we feel that we need to do that," he said.
Forster is a key defensive player on Libby's undefeated girls soccer team.
"It's a full plate but it's good, it's easy to balance," she said. "I go from soccer to football and then just school in between. … I go to all of the football and soccer practices. If they (conflict), I just get to football right after soccer."
When asked how she gets along with her male teammates, Forster replied, "They pick on me a little but it's just normal team stuff … it's fun."
No. 2 has earned the respect of her coach.
"She's so focused and has a great work ethic," Fuller said. "I'm just so proud of her."
---