Trojans open season by dominating Darby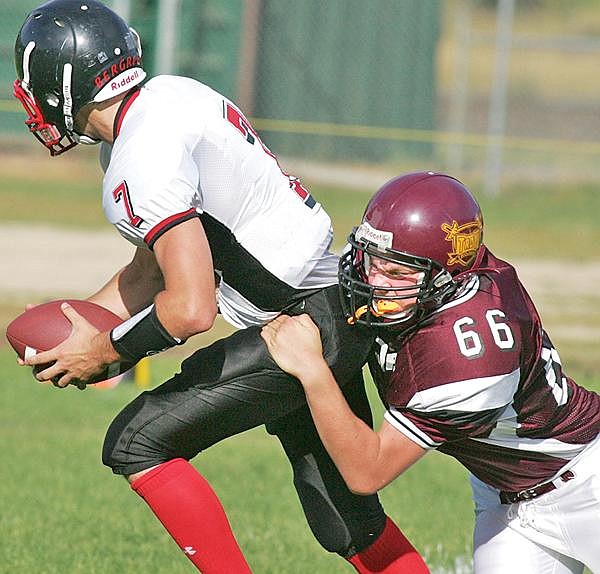 Trojan DT Pat Hickman sacks Darby QB Matt Converse.
by
Brad Fuqua & Western News
|
September 8, 2009 12:00 AM
Putting on a varsity uniform for the first time as the starting quarterback, Troy junior Mike Ormiston had the jitters early on. But he settled down quickly, threw four touchdown passes and even had two picks on defense to help the Trojans to a 42-6 season-opening victory Friday over Darby.
"He was nervous to start with but he did a good job," THS coach Rich McElmurry said. "It's easy to lose focus in these games. That was good to see how he would respond."
Jake Alexander set the tone for the contest on the opening kickoff with an 87-yard return for a touchdown – a feat Troy had not accomplished at the beginning of a game in years as McElmurry recalled. The 5-foot-7, 170-pound Alexander also helped the Trojans maintain a consistent running attack with 76 yards on 15 carries.
"I thought we executed pretty well in the first half and did what we wanted to in the first quarter," McElmurry said.
Troy simply dominated the first quarter with four touchdowns. Along with the kickoff return, Jake Higgins scored on a 10-yard pass, Alexander ran in from 3 yards out and Derrick Winslow hit paydirt on a 12-yard reception.
The Trojan defense also got the job done and did not allow a Darby first down well into the second quarter. The Tigers put together a few drives, primarily in the second half when the game was out of hand, to make things look closer on the final stat sheet.
"We will need to be more consistent," McElmurry said. "We have a couple of kids that are pretty young in some positions. A couple of times they moved the ball downfield on us."
Troy's first TD from scrimmage came with 10:09 left in the first. Darby helped the cause by fumbling a snap in punt formation. Troy senior Tom Roeder tackled Josh McCrossin and the Trojans took over on downs. On third-and-4, Higgins scored on the pass from Ormiston.
Troy scored on its next possession as well on a 3-yard rush by Alexander. The Trojans drove 71 yards to the end zone on six plays. The big gainer came on a first down option rush by Ormiston. After taking the ball himself downfield for 27 yards, he pitched to Alexander who advanced another nine yards to the 6. Two plays later, Alexander scored.
The Trojans went up 28-0 on Winslow's TD reception with 36 seconds left in the first. This time, Troy drove 67 yards in seven plays, including a 26-yard shovel pass from Ormiston to Kody Hoffman. Ormiston also found Caleb Kelso to move the chains on a 13-yard reception.
On the first play of the second quarter, an open Aaron Johnston saw a pass go off his fingertips and the Trojans dodged a bullet. The Tigers later put together an 11-play drive inside the Troy 5 but came up short. Chris Hoffman made a big tackle on fourth down to stall the Darby effort.
The Trojans went up 35-0 with just 11 seconds left in the half on a 26-yard pass down the right sideline from Ormiston to Kody Hoffman. On the ensuing kickoff, Troy's Trent Cratty picked up a Darby fumble on the runback but fell to the ground as time expired.
Because of a mercy rule, the clock continued to run in the second half with Troy leading by 35 points. The Trojans upped the advantage to 42 points with 2:30 left in the third on a 40-yard TD from Ormiston to Brian Hammrich. Troy overcame two holding penalties and a run for a loss on the drive.
Ormiston converted on four extra point kicks and also tossed a pass to Winslow on a two-point conversion. Ormiston finished with 160 yards passing while completing 12-of-14. Kody Hoffman, Winslow and Alexander each had three receptions.
Troy (1-0) on Friday heads to Mission.
---