Cross Country: Logger harriers host invitational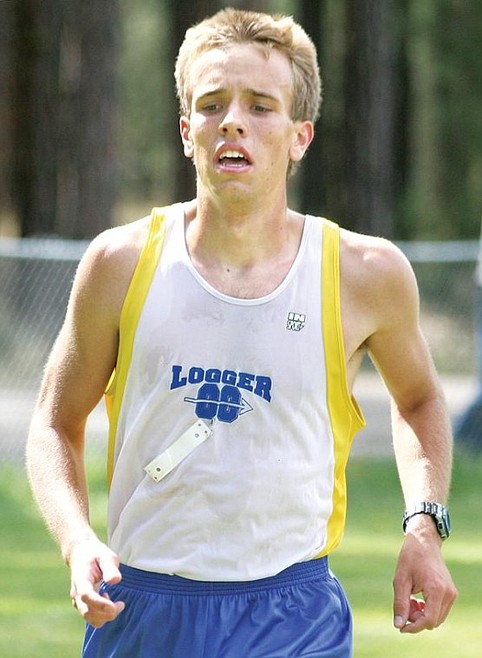 Brad Fuqua/The Western News William Lott finishes Friday's Libby Invite at J. Neils Memorial Park with a time of 18:52.92.
by
Brad Fuqua & Western News
|
September 8, 2009 12:00 AM
Sitting down in the grass not far from the finish line and trying to catch his breath, Libby junior William Lott knows he has a lot of hard work ahead to reach his goals in cross country.
For the second straight meet, Lott finished at the Loggers' top runner and he hopes by season's end to be among the top 15 at state.
"I started as a sophomore and then started getting serious this year," Lott said following a 30th-place finish at Friday's Libby Invitational. "I want to get down into the 17s."
Lott admitted that he didn't get much road work in over the offseason but said that he's now "trying to make up for it." On the course at J. Neils Memorial Park, he came out fairly quick with a 5:40 over the first mile before settling down into a pace of 6-plus minutes the rest of the way.
"This is not my favorite one," Lott said about the challenging Libby course. "It's too hard, too hot."
Still, Lott was able to finish under 19 minutes for the first time when he came in at 18:52.92.
"I'm just trying to keep up with the turbo," Ben Graziano laughed when talking about his teammate. Graziano finished 34th overall at 19:09.04.
Three other Libby runners finished under 20 minutes – Cody Elliott (40th, 19:22.38), Jacob Thomas (43rd, 19:36.44) and Zeke Carlson (45th, 19:56.40). Matt Nelson (47th, 20:08.26) and Chris Faulkner (54th, 20:48.37) rounded out the Logger varsity, which as a team placed sixth.
Sandpoint, Idaho, won the meet in a tiebreaker over Columbia Falls.
Nikola Falk had a top 10 finish for the Libby girls. Falk, who was 11th the previous week at Bonners Ferry, came in with a time of 19:32.81 for seventh place. Timberlake's Ashley George overtook Falk right before the finish line to nab sixth.
Falk, a 16-year-old from Vienna, Austria, said she was thankful for cloudy weather for the 3.1-mile run.
"I would like to maybe make it into the top 15 at state," Falk said about what she would like to accomplish this season. "That would be cool."
Whitefish dominated the girls' race with a 1-2-3 individual finish.
The Loggers' Elizabeth Rodgers finished 37th in 28:11.99.
---