Old cranes pass test for Stinger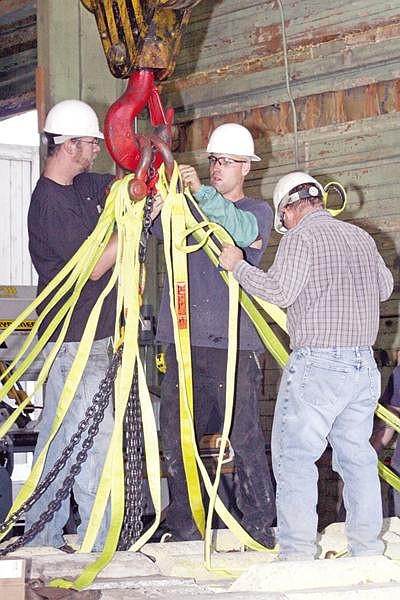 Canda Harbaugh/The Western News Stinger employees Jim Rockwell, from left, and Tom Rose, and project manager Roy Baldwin secure a 50,000-pound load during a crane test on Friday afternoon.
by
Brad Fuqua & Western News
|
September 1, 2009 12:00 AM
As part of its plan to move forward into production, Stinger Welding in Libby on Friday successfully tested a pair of interior overhead cranes.
The cranes both date back for decades, including an old Whiting model that could've been manufactured nearly a century ago.
"This crane here is pre-1920 and is in excellent shape," said Roy Baldwin, project manager, while pointing to the smaller of two cranes. "The maintenance program they had here over the years was impeccable."
Professional Crane Inspections out of Washington state performed the tests – not only for safety but for certification reasons. The Occupational Safety and Health Administration has certain requirements in place for the operation of such equipment.
"These cranes haven't been certified for quite a few years," Baldwin said. "PCI is doing it because they had a history here with Stimson. They have information from past inspections so it made it easier for them to do it."
A structural engineering firm out of Kalispell had already tested the timbers/rails system on which the cranes operate.
Stinger officials originally had planned to test the cranes with water bags but it turned out that none could be located within a reasonable timeframe.
"We've been in a holding pattern for two weeks," Baldwin said. "The company that supplies them had them all tied up on the East Coast."
The concrete blocks were available on site. On the larger crane, 16 blocks that together weighed more than 50,000 pounds were used. PCI used a spreader bar with rigging coming down that was secured into "I" hooks. Plans called for the larger crane to be tested to 25 tons with the smaller crane tested to 15 tons.
Stinger Welding, which fabricates steel bridges, recently opened the Libby site as part of the operation that is based in Coolidge, Ariz.
---