Junior high building marks 40th year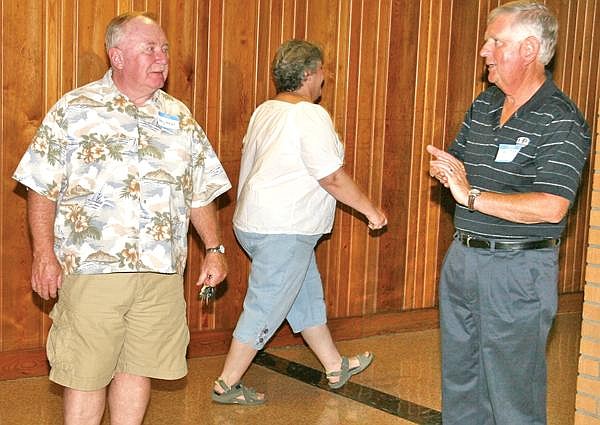 Brad Fuqua/The Western News Former Libby Junior High teachers Greg Niklas, left, and Jim Mee chat about changes to the building while looking around during a tour on Friday.
by
Brad Fuqua & Western News
|
September 1, 2009 12:00 AM
As the summer of 1969 drew to a close and fall classes were on the horizon, principal Don Waldron led local Rotarians on a tour of the new Libby Junior High building. He escorted them down hallways and into classrooms, through the commons area and over to the gymnasium.
Forty years later this past Friday, Waldron again went on a tour of the building. Nowadays, it's called Libby Middle School and instead of grades 7-9, the campus is home to students in grades 4-8. A lot looked the same but there were also a good number of differences.
"The building still looks good," said Greg Niklas of Seeley Lake. "It's hard to believe it's that old."
Waldron and Niklas were just two from a group of former educators visiting the building as part of a 40th anniversary celebration. The first classes were held there on Sept. 2, 1969.
Walking through corridors and looking into classrooms, comments such as "I don't remember this being here" were common. Upon entry into one classroom, a current teacher lightheartedly referred to them as the "dam teachers."
In a way, "dam teachers" was appropriate for what was happening in Libby at the time. In fact, the school was built because of the huge influx of students who were children of construction workers at Libby Dam. The $2.4 million school was co-financed by the Libby School District and the U.S. Army Corps of Engineers.
"It's a lot nicer than it used to be," said Francis Pettit of Centralia, Wash., who taught history and physical education at LJH. "It's a lot more practicable. There's more classroom space."
Libby Dam employed more than 2,000 in 1969. Enrollment at the school was 881 and 48 teachers were on the staff.
Enthusiastic greetings and hugs broke out when school employee Yvonne Little walked down a corridor and recognized her teachers from long ago. Little was an eighth-grader in Libby Junior High's first year.
"Right now, I've seen at least five (teachers)," Little said. "My favorite was Mr. (Jim) Mee in geography. And I had Mr. Niklas for art.
"Just talking to them, I remembered about the times I got in trouble," Little added with a laugh. "I confessed some things to them just now."
One of the primary differences between the original school as compared to today seemed to be the lockers. Many of the visitors commented on how the lockers used to be out in the middle of the pods and not against the walls. In fact, one can see where the lockers used to sit by looking at tile patterns on the floor.
Jim Mee, who taught English and geography at the school for 34 years, remembered the winter of 1996-97 when a beam came crashing down under the weight of snow.
"The roof caved in – this beam," he said, pointing up toward the ceiling. "Chunks of wood were all the way down there. If anybody had been in here, they would've been killed."
Oddly enough, the electricity never went out – just one of the many details Mee remembers about the incident.
Down a far corridor, Niklas – who was accompanied by another former teacher from the first year, wife Marilyn Niklas – headed into the art room where he once taught.
"They have a new one in there now," he said while peering in at a kiln. "The old one was square."
Waldron, who toured the building with his wife Jean, now lives in Kalispell with his winters down in Wickenburg, Ariz. He played a major role in the school's design by working with the architectural firm of Taylor, Thon, Schwartz and Kirkpatrick out of Kalispell.
Waldron served as assistant superintendent of Libby Schools for 11 years.
At the time, the school's design was considered to be the wave of the future with five pods of eight classrooms each. Each pod included a self-contained unit with four regular-type classrooms and four expandable modular-type classrooms, which could be converted into two double-size rooms for team teaching and larger activities. Along with the five educational pods, there was an administration-library pod as well as a separate gymnasium and music building.
"It's funny, you feel like you've never left," said Marilyn Niklas, who taught ninth-grade in the building from 1969-71.
"It's so well-preserved for the past 40 years," Greg Niklas said added. "Overall, it's really nice to see how well it was kept up."
---