Museum plans big opening day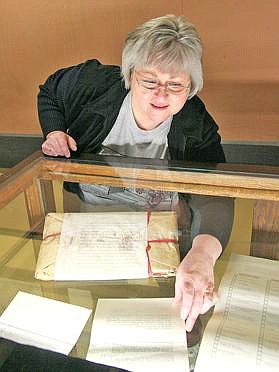 Canda Harbaugh/The Western News Laurie Mari works on a Lincoln County centennial display in preparation for Heritage Museum's opening day on Saturday.
by
Canda Harbaugh & Western News
|
May 28, 2009 12:00 AM
Heritage Museum's opening-day festivities will feature a new living history exhibit this year with characters from an 1839 river expedition.
"All of us are involved in historical interpretation and living history in different ways," said Mark Morain, a member of the group and a Heritage Museum board member. "It just sort of evolved."
Morain and up to four others will be re-creating the U.S. Army Corps of Topographical Engineers Upper Missouri River Expedition, which includes an Army lieutenant as the expedition leader, a scout, an interpreter, a missionary and an artist.
Morain will play a scout and hunter in the expedition, which will be on display for the entirety of the Heritage Museum's opening day on Saturday from 10 a.m.-5 p.m.
The exhibit was performed one other time so far, but it has been refined and more players have been added since. The first performance was at Ft. Union, along the North Dakota-Montana border, at the mouth of the Yellowstone River.
"That was actually the location of where the expedition began on a steamboat," Morain said. "We're out of our area by doing it here (in Libby) but it's still an interesting thing for people to see."
Similarly, and as in past years, the Kootenai Muzzleloaders will have people on hand in period dress and will perform live firing demonstrations.
As for new stationary exhibits – the museum will unveil its Lincoln County display in honor of the county's 100th anniversary this year.
The exhibit includes newspaper articles that narrate an intense battle between Libby and Eureka for the county seat. Mark White put together the text for the exhibit.
"I'm astounded at the corruption and ill feeling I have found," White said at a Lincoln County Centennial Board meeting last month. "The more you dig, the uglier it gets."
The exhibit will also have artifacts from the era and photos of early Libby and Lincoln County.
Many of the old favorites of the opening event will occur during the Saturday event as well, such as mining equipment demonstrations, rides in the Model T and a helicopter landing.
Schedule
of events
• Throughout the day – HAM radio booth with Bill Cunnane, mining equipment demonstrations, Kootenai Muzzleloaders booth and demonstrations, live history exhibit
• 10 a.m. – "History of Lincoln County" by Mark White
• 11 a.m. – Montana National Guard helicopter lands on the grounds. Drug Awareness for Kids by Master Sgt. Katherine Gilding will follow
• 12:15 p.m. – Blue Grass Music by Lee Tonner
• 1 p.m. – Dutch oven cooking
• 1:30 p.m. – "The Libby Story" by Jeff Gruber
• 2:30 and 3:30 p.m. – Showing of "Pine, People, and Deer," a video produced by the J. Neils Lumber Co. in 1955 that shows downtown Libby, the sawmill and mine. It also includes 30 minutes of silent footage of logging in the area during the 1930-50s
---