Irish band to 'ShamRock' the house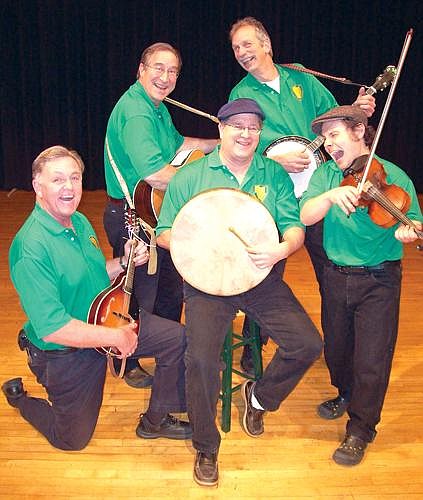 Courtesy The Shamrockers will play at The Hot Club in Troy on Friday, June 5.
by
Western News
|
May 28, 2009 12:00 AM
With names like Liam O'Leary and Paddy Doyle, it's obvious that an Irish band will be taking the stage.
The ShamRockers, a popular Irish quintet out of Polson that has developed a reputation around western Montana, will bring its brand of vocally-driven Irish music and humor to Northwest Music/The Hot Club in Troy on Friday, June 5.
The concert is scheduled to run from 7:30-9:30 p.m., and will include an intermission.
Besides O'Leary (vocals, guitar, bizouki) and Doyle (vocals, fiddle, mandolin, bodhran), the quintet includes Robby Flynn (vocals, guitar), Mick Houlihan (vocals, whistle, guitar, harmonica) and Nels O'Connell (vocals, guitar, banjo).
Among the band's repertoire of traditional and contemporary Irish tunes, the lads will perform several songs from their new compact disc, "Just Plain Lucky," which includes a few originals as well.
For the past several years, The ShamRockers have played regional venues from churches to brewpubs while receiving positive reviews. Recently, they were featured performers at St. Patrick's Day festivities in Great Falls.
The group will perform later in June at the Summer Celebration in Fort Benton and in August at the National Lentil Festival in Pullman, Wash.
The Hot Club, which features live entertainment each Friday, offers a smoke- and alcohol-free environment with food, coffee drinks and smoothies available.
---