Family cruise: Libby native, daughter serve together on carrier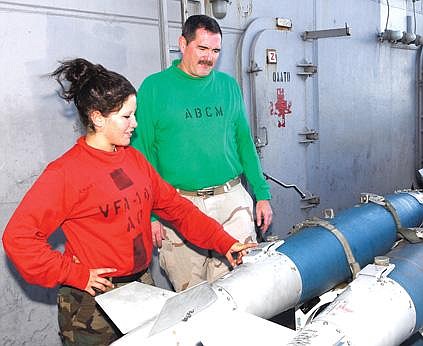 Courtesy/U.S. Navy Serving in their own roles in the defense of our country, John and Lisa Kyes have a typical father-daughter relationship. In fact, on a ship the size of a small city, he primarily sees her when she needs to charge the iPod.
Twenty-year-old Lisa Kyes sees her father, John Kyes, more now than she did when she was growing up.
After work she sometimes stops by his place to eat dinner or visit for a while, but she has a demanding social life so she doesn't always stay as long as her dad would like.
It's a run-of-the-mill father-daughter relationship – except they don't live down the street from each other.
Instead, they've been traveling the Pacific Ocean together on a ship the size of a small city.
John, a Libby native, and his daughter, Lisa, serve together aboard the USS John C. Stennis, a Navy aircraft carrier. The seafaring air base is as long as the Empire State Building is tall and houses 5,000-6,000 people.
Lisa loads bombs onto jets, and John, a master chief, leads about 240 sailors in launching and recovering aircraft.
Lisa grew up in Belfair, Wash., where her father was stationed, but her connection to Libby is strong. John and her mother, Diane Kyes, grew up in Libby, and Lisa spent many summers visiting grandparents, cousins, aunts and uncles in her parents' hometown.  
Though it's not unusual for family members to be aboard the same ship, John has never seen a father and daughter combination in his 27 years in the Navy.
"I've seen brothers and fathers and sons," John said. "Right now there's a couple of twins on board, but a father and daughter is not very common at all."
Lisa joined the Navy the fall of 2007, right after high school, and has been aboard her father's ship for over eight months now. Though it took a little luck to be stationed aboard the same aircraft carrier, it also took some string-pulling on John's part.
"The Navy is actually a small place," John said. "As a master chief, you know other master chiefs … I asked around, some jobs opened and she happened to be able to fill one."
Lisa, about to embark on her first cruise, wasn't sure how others would react to her relationship with "Master Chief Kyes."
"When I first got out here, I was real nervous," Lisa said, "and I didn't want my friends to know who he was."
John said that everyone he has talked to has reacted positively to him and his daughter being aboard the ship, but Lisa pointed out his high rank.
"It's a little different for me," she said. "I'm not a master chief. I'm at the bottom of the food chain. Some people think he hooks me up – he's so high up there and I'm not."
Lisa doesn't get too many perks as a master chief's daughter, but she does always have someone looking out for her.
"She's accused me of checking up on her a couple of times," John said. "She has aunts and uncles on board here that keep an eye on her as well."
Those "aunts and uncles" are other master chiefs that keep John informed of his daughter's business.
The two don't directly work together but see each other in passing. Lisa admits that her dad can be embarrassing.
"I'll be walking down the hall, and he'll say something goofy and I'll be like 'oh my god,'" Lisa said. "He embarrasses me often."
"Like any good father should," John added. 
John served abroad much of Lisa's childhood, so being aboard the same ship has strengthened their relationship, said Lisa's mom, Diane.
"I saw their relationship bloom," said Diane, who keeps in contact with them through e-mail. "It was a completely different living experience for her the first time on the ship. She had a hard time, but it made it nice that her dad was there."
Now that Lisa has comfortably settled in, she keeps busy with work and friends, and John has to have a strategy to get her to spend time with him. Lisa has borrowed his iPod the entire cruise, but she must see her dad when the battery runs out because he keeps the charger.
"That's his weapon to get her to visit him," Diane said. "He tells me, 'I see her when she needs something,' so he was smart enough to keep the charger."
John and Diane were taken off-guard when their youngest child and only daughter told them her senior year of her plans to join the military. She had always planned on going directly to college, but she saw the places that the military took her father and two older brothers.
"I didn't want to be stuck in a small town," she said. Joining the Navy "helped me move my career on the right path."
John's father and uncle served in the military and Lisa's brothers are serving in the Army. Lisa chose the Navy because of her dad. 
"If any one of them was going to follow in his footsteps, I'm glad it was her," Diane said. Lisa is strong and can take care of herself, Diane noted, but it's "nice to know that he could help her out and be there for her."
Lisa doesn't know yet if she wants the Navy to be a lifelong career like it was for her dad. She is in the second year of a five-year commitment.
"Around my four-year mark I'll know more," she said. "Whether it's for me or if I want to get out and go to college."
---