Loggers sweep 2 north of border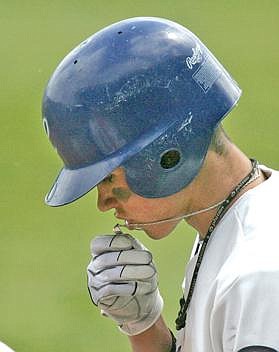 Paul Sievers/The Western News Before stepping into the batter's box, Colton Cannon goes through a quick ritual on Saturday against the Missoula Pioneers. Moments later, he hit his first home run of the season.
by
Western News
|
May 12, 2009 12:00 AM
The Libby American Legion baseball team swept a twinbill from Cranbrook on Sunday during a trip to British Columbia.
In the first game, the Loggers scored in all but one inning to pound out a 7-3 victory.
"We put the ball in play and they made mistakes," Loggers coach Kelly Morford said. "We have five stolen bases so we were aggressive on the basepaths."
Derek Willis collected two hits in the win. Joe Coker smacked a triple while Colton Cannon, Clay Smith and Adam Stapley each contributed doubles.
Cannon went five innings at pitcher, allowing two runs, seven hits and three walks while striking out five. Zach Watson pitched the final two innings and gave up one run and four hits.
In the nightcap, Libby's Coker hit a sixth-inning single to score Chris Herbig for the game-winner in a 5-4 triumph.
Stapley was sharp on the mound in his first-ever start. Stapley allowed four runs – two of them earned – seven hits and two walks to go along with one strikeout in his seven innings.
Earlier in the week on Wednesday, a strong pitching performance and three homers powered the Double-A Kalispell Lakers past Libby, 12-4.
Mario Venturini homered in the fifth inning, while Bryce Stacy had a solo shot in the fourth, and Zach Brosten homered in the eighth
Venturini also pitched well by checking Libby on three hits, fanning eight and allowing one walk.
"They swung the bats pretty well," Morford said. "We just made a few too many mistakes defensively, didn't get timely hits with runners on base."
The Lakers had 13 hits, led by Matt O'Brien's 3-for-5 at the plate.
Libby had six hits with Dustin Morningstar claiming half those with a 3-for-5 performance.
Derek Willis, 1-for-4, homered for Libby in the second inning.
On Saturday, Libby split a doubleheader with the Missoula Pioneers.
The visitors struck for a dozen runs in a 12-3 victory in the opener. Six of those runs crossed the plate in the final inning.
A highlight for Libby occurred in the bottom of the seventh when Cannon hit his first homer of the season – a solo shot. He finished 2-for-4.
Herbig had eight strikeouts and two walks at pitcher for the Loggers.
In the second game, Libby regrouped for a thrilling 8-7 victory.
Libby built an 8-3 lead in the bottom of the fourth inning. In what proved to be the game-deciding hit, Cannon singled home Herbig for the eighth run. Herbig, who went 3-for-4, had reached earlier on a single and stole second base.
The Loggers scored all three runs in the fourth with two outs.
Coker had a big game with a two-run homer to left-center. He also had a triple.
Eric Stevenson got the win at pitcher and Cannon was credited with a save.
Libby (5-5) plays Glacier AA at Whitefish on Wednesday.
(The Daily Inter Lake in Kalispell contributed to this story).
---