Libby girls win 3 of 4 in Butte Central tourney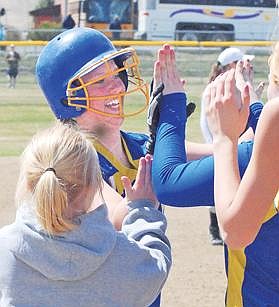 Courtesy/Ruth Fenn Nicky Lapka celebrates with teammates while crossing the plate after one of her five home runs last weekend at the Butte Central Tournament.
by
Western News
|
May 12, 2009 12:00 AM
The Libby High School softball team won three of four games on Friday and Saturday at the Butte Central Tournament.
In a thriller on the first day, the Lady Loggers outlasted Livingston, 8-4, in eight innings. Lexi Hageness hit the game-winning RBI on a single to right-center to score Jordan Refsland. Libby added four more runs in the inning for insurance.
Hageness had the hot bat with a 3-for-4 performance. Nicky Lapka hit a solo home run in the fifth inning. Emily Monroe smacked a double.
Taylor Alexander got the win at pitcher, striking out six Livingston batters.
Libby won another game on Friday in exciting fashion with an 11-9 triumph over Laurel. With the game tied, 5-5, Candace Hendrickson had a walk-off two-RBI double in the bottom of the sixth to give LHS the win.
Lapka again provided power with a home run and three RBIs while going 2-for-4. Refsland and Taylor Barton also collected two hits apiece. In addition to Hendrickson, Refsland, Monroe and LaRona Luscher hit doubles.
Armstrong was the winning pitcher.
Libby took a 5-2 win over Anaconda on Saturday at the tournament. The Lady Loggers erupted for five runs over the first two innings and then held on.
Hageness hit a two-run shot in the first inning and finished the game at 2-for-3. Lapka homered in the second inning.
Armstrong again was the winning pitcher.
Belgrade held off Libby in another tourney game on Saturday, 4-3. The Loggers nearly rallied in this game as well.
Trailing 4-2, Lapka – who homered in every tourney game for LHS – hit a one-out solo shot to pull the Loggers to within one. Hendrickson later hit a two-out single to represent the tying run on base but Belgrade ended the game on a groundout to third base.
Lapka drove in all four runs for Libby on two home runs. Her other four-bagger came in the third inning on a two-run homer that scored Luscher. Besides Lapka, Hendrickson also had a pair of hits for the Loggers.
Armstrong was the pitcher of decision for Libby.
Earlier in the week, Glacier's Kendra Bouley tossed a no-hiter in a 2-0 victory over the Lady Loggers. Bouley recorded 13 strikeouts and allowed only one baserunner on a walk. At the plate, she went 2-for-2 and tripled.
Lapka drew a walk in the top of the first inning before Bouley and the Glacier defense set down 21 straight.
Libby's Armstrong struck out four and allowed no walks and six hits.
"Taylor pitched a great game," Thompson said. "We just haven't been helping her at the plate. Taylor is really pitching well."
Libby (10-8 overall) is scheduled to play at home on Friday against Columbia Falls. First pitch for varsity is scheduled for 6 p.m. (following the JV game).
(Dixie Knutson of the Daily Inter Lake in Kalispell contributed to this story).
---