Asbestos victim memorial group's sign up in Libby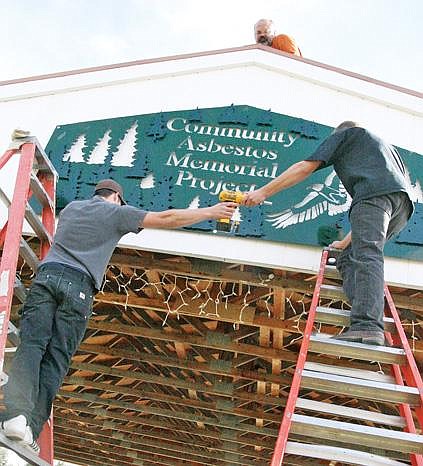 Brad Fuqua/The Western News Students James Kellogg, left, and Kody Roberts work on the sign while Todd Berget peers over the edge of the roof above.
by
Western News
|
May 12, 2009 12:00 AM
Part of an effort that has been ongoing since 2002, the Community Asbestos Memorial Project reached a milestone Friday morning when a sign was attached to a pavilion at Riverfront Park in Libby.
The metal sign displays the name of the group along with trees and an eagle. Todd Berget and Central School students Brittanne Amos, Kody Roberts and James Kellogg created the artistic display and with the help of the city's Shaun Smook and a frontloader, installed it on a bright, pleasant morning by the Kootenai River.
The project's Gary Swenson said the group would like to gather the names of victims and remember them at a permanent memorial site in the future. One possible idea is to create an S-shaped wall that would be located in between the CAMP's picnic shelter and the newly-constructed Fred Brown Pavilion. Swenson, who has seen at least a half-dozen friends die from asbestos-related complications, said the wall would include the names of victims.
---