Troy girls look to improve on 2008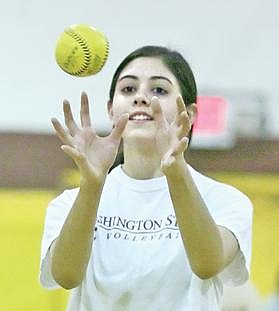 Paul Sievers/The Western News Sophomore Megan Cummings participates in an early-season practice. The Lady Trojans have 16 players in the program and will field a junior varsity team.
by
Brad Fuqua & Western News
|
March 31, 2009 12:00 AM
Losing four seniors along with two other players that started last year, the Troy High School softball program finds itself with plenty of question marks as its fourth season of varsity competition begins.
Coach Russ Thompson has confidence in this year's group of girls because of an exceptional work ethic they've shown in practice.
"We're a really young team … but we have kids with good attitudes who are willing to learn, and that helps," Thompson said.
Challenging weather this spring has forced the team inside so Thompson has not had very many chances to get a good look and evaluate talent. The Trojans' battery heading into the season has been decided, however.
"The catcher will be Kimmy Klin, she transferred to Troy from Libby," Thompson said. "Alicia Anderson, she's our No. 1 pitcher."
Alyssa Olds and Audrey Messerle are also expected to see innings on the mound.
Beyond those players, a roster of 16 students are competing for starting jobs. Thompson has three freshmen and two juniors that are new to the program.
"Just from looking at the kids inside, they're hitting the ball pretty well," Thompson said. "I don't know positions yet but I think attitude and hitting would be our strengths. The weakness would be inexperience because we only have one senior."
Thompson was referring to Anderson, who has played on every Trojan team since the sport's inception in 2006. Anderson saw action right away as a pitcher.
"She won eight games her first year," Thompson said. "She got her walks down … and she's getting better and better with control. She can throw three pitches now."
Troy compiled an 8-11 season in just its third year. The Lady Trojans placed fifth in their conference – one spot shy of the postseason. The ticket to state is a tough one to obtain with just eight teams getting berths in a playoff system that combines B and C schools.
The Western B has 10 teams competing for four postseason spots – Florence, Loyola, Deer Lodge, Drummond, Mission, Plains, Noxon, Eureka, Thompson Falls and Troy.
Loyola Sacred Heart and Thompson Falls appear to be strong heading into the season. Mission is another school to watch, Thompson said. Thompson Falls reached last year's title game and lost a heartbreaker to Stillwater, 4-3.
The Lady Trojans are scheduled to open the season on Friday at home against Noxon in a 4 p.m. start.
Varsity Schedule
April 3, at Whitefish, 6 p.m.
April 3, Noxon, 4 p.m.
April 9, Thompson Falls, 4 p.m.
April 10, Drummond#, 2 & 4 p.m.
April 11, Florence, 4:30 p.m.
April 13, Plains, 4 p.m.
April 17, Loyola, 4 p.m.
April 18, at Mission, 1 p.m.
April 20, at Plains, 4 p.m.
April 21, Eureka, 4 p.m.
April 24, Deer Lodge#, 3 & 5 p.m.
April 25, at Frenchtown Tourn., TBA
April 30, at Noxon, 4 p.m.
May 4, at Eureka, 4 p.m.
May 8, Mission, 4 p.m.
May 9, at Loyola, Noon
May 16, at Thompson Falls, Noon
# at Plains
Note: The Class B-C State Tournament is scheduled for May 28-30 at Anaconda.
JV Schedule: April 9 vs. Thompson Falls, 6 p.m.; April 11 vs. Florence, 6:30 p.m.; April 13, Plains, 6 p.m.; April 17 vs. Loyola, 6 p.m.; April 18 at Mission, 3 p.m.; April 20 at Plains, 6 p.m.; April 21 vs. Eureka, 6 p.m.; May 1 vs. Libby, 4 & 6 p.m.; May 4 at Eureka, 6 p.m.; May 8 vs. Mission, 6 p.m.; May 9 at Loyola, 2 p.m.; May 11 at Libby, 4 & 6 p.m.; May 16 at Thompson Falls, 2 p.m.
---