Defending champs get set to open season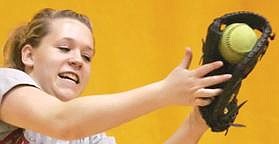 Paul Sievers/The Western News Jordan Refsland, one of three full-time returning starters for the Lady Loggers, makes a catch during an indoor practice.
by
Brad Fuqua & Western News
|
March 31, 2009 12:00 AM
Coming off its fifth state championship, the Libby High School softball team will take the field this season with a big bull's-eye on its back. Opponents that face a state champion have an extra incentive to play well while striving to beat the best.
The Lady Loggers bring back three players that were full-time starters on last year's club. Third-year starter Nickole Lapka gives Libby a dangerous bat following a stellar junior season.
"She led us in batting average last year – and that's playing on a state championship team," LHS coach Dean Thompson said. "She's really a good leader with this group of girls."
With only a few opportunities to get outside, Thompson was still working on exactly where players might take the field in this week's opener. Lapka played first base before moving to third last season. Thompson said she's getting looks at third, shortstop and catcher.
A key component to any softball team can be found on the mound and the Loggers appear to have a few options. The role of No. 1 starter is up for grabs as the season gets under way.
Junior Sarah Orr got in some innings last year for LHS and sophomore Taylor Armstrong is a sophomore considered to be a top prospect. Another sophomore, Alysha Martin, has a good arm out in center field and could also see good time on the mound.
"With our pitching, I'm still not sure … we have three or four girls that can pitch for us," Thompson said. "We'll see who will rise to the top."
Armstrong was the program's top hurler on a junior varsity team that lost only a few games.
"Armstrong pitched last year for us and pitched a lot during the offseason. She's probably No. 1," Thompson said.
Besides Armstrong, the other two returnees that were full-time starters last year include Martin in center field and Jordan Refsland at first base. Both LaRona Luscher  and Amber Grubham saw starts at second base. Emily Monroe played some outfield as a freshman last season.
The softball program attracted 25 athletes, which Thompson said are good numbers. The Loggers have a roster dominated by underclassmen.
"They've been working hard in the open gym during the first two weeks of practice," Thompson said this past Friday. "Their attitude is really good."
In the conference, Thompson said Polson is probably the preseason favorite with a lot of players back off a strong team.
"They tied us last year for best conference record," he said. "They'll be very strong throughout the state and return some real strong kids like they do every year."
Thompson had hopes that the JV team would be able to take the field on Tuesday against Eureka. The varsity's first game on Friday is slated to be played at Whitefish. The home opener follows on Saturday with both Frenchtown (noon) and Timberlake (4 p.m.) in town.
The Libby-Frenchtown game will be a rematch of last year's state title game. Frenchtown returns one of the top pitcher-catcher combos in the state.
Varsity Schedule
April 3, at Whitefish, 6 p.m.
April 4, Frenchtown, Noon
April 4, Timberlake, 4 p.m.
April 9, Flathead, 6 p.m.
April 17, at Havre, 4 & 6 p.m.
April 18, at Browning, Noon & 2 p.m.
April 21, at Columbia Falls, 3:30 p.m.
April 24-25, at Frenchtown Tournament, TBA
May 2, Polson, 3 p.m.
May 7, at Glacier, 6 p.m.
May 8-9, at Butte Central Tournament, TBA
May 15, Columbia Falls, 6 p.m.
May 16, at Ronan, 1 p.m.
May 21, Whitefish, 6 p.m.
May 22, at Polson, 6 p.m.
Note: The Class A State Tournament is scheduled for May 28-30 at Polson.
JV Schedule: April 3 at Whitefish, 4 p.m.; April 4 vs. Frenchtown, noon (tentative); April 9 vs. Flathead, 4 p.m.; April 10 vs. Bonners Ferry, 11 a.m. & 1 p.m.; April 21 at Columbia Falls, 5:30 p.m.; April 28 vs. Flathead, 4 p.m.; May 1 at Troy, 4 & 6 p.m.; May 2 vs. Polson, 1 p.m.; May 7 at Glacier, 4 p.m.; May 11 vs. Troy, 4 & 6 p.m.; May 15 vs. Columbia Falls, 4 p.m.; May 16 at Ronan, 3 p.m.; May 21 vs. Whitefish, 4 p.m.; May 22 at Polson, 4 p.m.
---