Clara Huisentruit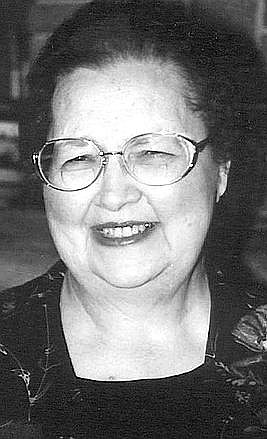 |
March 31, 2009 12:00 AM
Clara "Clarie" Elizabeth Pattie Huisentruit, 73, died on March 26, 2009 at Kalispell Regional Medical Center in Kalispell.
She was born on March 4, 1936, the fourth of five daughters, to James Eugene and Anna Marie (Davis) Pattie on their family homestead on Copper Mountain in Troy.
She attended school in Troy and graduated from Troy High School in 1954.  She married Roger Huisentruit on Oct. 9, 1954. They raised six children and were married almost 50 years when her husband died in September 2004. Mrs. Huisentruit lived within five miles of her birthplace throughout her life.
Mrs. Huisentruit loved  sewing cooking, family dinner gatherings, music, singing and baking – pies, huckleberry delight, homemade bread and cinnamon rolls were her specialty. She was active in church and the longtime leader for the Troy Trinity Tabernacle.
She was em-ployed as a janitor for the Troy Post Office in the 1980s and worked on the Election Board in Precinct 8 for 36 years. She was a member of the Grange Hall and Tri Valley Social Club for many years.
Mrs. Huisentruit is survived by her children, Rogene and husband Danny Stindt of Troy; Pamela and husband Michael Norman of Troy; Crystal and husband Daniel Webley of Troy; Roger and wife Julie (Slover) Huisentruit of Elko, Nev.; Maurice and wife Debbie (Vial) Huisentruit of Troy; and Andrea and husband Jerry Wandler of Troy; a sister, Frances "Franny" Sales of Sequim, Wash.; 31 grandchildren, 45 great-grandchildren, one great-great grandson; and several nieces, nephews and their children.
She was preceded in death by her husband, Roger Huisentruit; granddaughter, Hannah Hall Wallace; parents, James and Anna Pattie; and sisters Rose Pattie Pharness, Nellie Pattie Huisentruit and Ellen "Trixie" Pattie Salzer.
Services will be Wednesday, April 1 at 1 p.m. at the Troy Community Baptist Church followed by graveside services at the Huisentruit Family Cemetery. Visitation was scheduled for Tuesday, March 31 from 1-8 p.m. at the Schnackenberg & Nelson Funeral Home in Libby.
A potluck dinner will be held at the Troy Senior Citizens Center immediately following the graveside service on Wednesday.
---