Jitterbuggin' in Libby: Longtime school tradition continues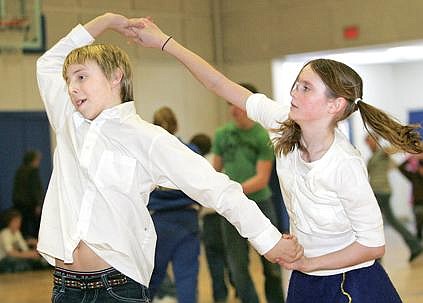 Paul Sievers/The Western News Tyler Badertscher and Mahalah Wedel show off their moves during a performance worthy of first place during last week's Jitterbug contest at Libby Middle School.
by
Canda Harbaugh & Western News
|
March 19, 2009 12:00 AM
From the "basic step" to the "chute through," 100 Libby middle-schoolers jitterbugged to the likes of The Everly Brothers and Flash Cadillac, showing judges their best moves at Friday's annual Jitterbug Competition.
"It's fun, especially when they dip you," eighth-grade participant Jaymee Robinson said, "as long as they don't drop you."
Students in the fifth through eighth grades dressed from casual to formalwear and performed a sequence of moves they learned during a five-week course in gym class. Numbered and labeled, the 21 moves hung on the wall behind them as they danced.
The top five couples were awarded $300 in cash prizes in the Glacier Bank-hosted competition. The best jitterbuggers spent weeks preparing for the big day.
"Almost every week we practiced at each other's houses," said first-place winner Mahalah Wedel, a sixth-grader. "We also practiced at recess."
Wedel and her partner, sixth-grader Tyler Badertscher, performed more advanced moves like lifting and the "table top," which they credit their parents for teaching them.  
Rosy-faced participants raced to the drinking fountains after the first block of songs while five judges pared 50 couples down to 15. A limbo competition entertained cheering parents, grandparents, students and teachers during the intermission.
The crowd roared as eighth-grader Hannah Payne, one of the taller of the limbo contestants, became the first student in the contest's history to conquer the lowest notch on the stick – 22 inches.
During the second block of songs, sixth-grader Tabitha Mirador giggled as she discussed with her dance partner eighth-grader Dustin Osborn why they didn't make the first cut.
"You were pulling some awkward moves," Mirador said. "We really only had two moves."
"Well, we only practiced twice," Osborn replied.
Because of the competition's enormous popularity, school officials last year began restricting the number of participants.
"Judges would complain because it's hard to pick out the top five couples when there were so many," said the competition's emcee and physical education teacher, Tim Hodel, "so we had to limit it to 50 couples." 
The competition's history is like that of the Jitterbug, a tradition that no one can put an exact date on. A bouncy variation of the Lindy Hop, the Jitterbug is a type of swing dance that dates back to at least the mid-1930s when band leader Cab Calloway introduced his tune of the same name. As for the school's annual Jitterbug Competition, it began over 27 years ago, Hodel said.
---