Animal shelter taking shape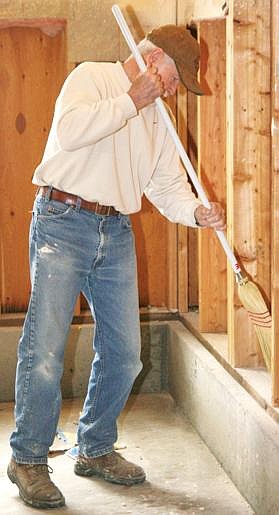 Canda Harbaugh/The Western News Paul Roe helps clean up the new Kootenai Pets for Life animal shelter with other volunteers on Tuesday. He and Jerry Jenks on Monday finished painting the walls "baby duck."
by
Canda Harbaugh & Western News
|
March 19, 2009 12:00 AM
Wandering from room to room, Judy Hyslop's smile gets wider and wider. She describes to volunteers the importance of each space in what will become Kootenai Pets for Life's new animal shelter.
Located in Libby on Bubba Road between Pipe Creek Road and Kootenai River Road, the new shelter is beginning to take shape.
"Look at this," she says, motioning, "All of this space is for storage. We can have shelves up here, and we also have the shed out front."
The current facility in Troy is so cramped that the KPFL board has had to hold its monthly meetings at another location. Not anymore, said Hyslop, director of KPFL's no-kill animal shelter. April's meeting will be in the new facility, whether or not light fixtures are installed yet.
Even with an enormous amount of volunteer work and supplies purchased at reduced rates, the building's cost has run over $86,000. Hyslop estimates that $50,000 more will be needed to finish the project.
KPFL made nearly $3,000 at its rummage sale fundraiser three weeks ago, and volunteers will be waiting tables next Thursday evening at Pizza Hut for tips and a percentage of the proceeds.
"There's always something in the hopper," volunteer Paul Roe said, "to get $500 here or $600 there."
Roe and Jerry Jenks joke that they were "volunteered" by their wives to work on the building. They've done the drywall and texturing, and finished painting the inside on Monday.
"We were, in a sense, drafted into this," Roe said with a smile. "We're not in any way professionals, but we've done some construction before."
The next step for Roe and Jenks will be to install the inside doors, baseboards and window sills. Money still needs to be raised for the doors, but Chapel Cedar in Troy donated all of the wood for the building's siding and inside trim.
The City of Troy gave the organization, which was formed in 2001, its current building and pays for the electricity and water. But it's cramped and aging and KPFL board members had been looking for an alternative.
In 2007, the City of Libby granted KPFL a 25-year contract, which can be renewed, to use the land that the new building is on.
"We were so desperate for a new building that (KPFL president Eileen Carney) and I were ready to mortgage our houses to buy new property," Hyslop said. "I think we ended up paying $100 for (the land), which was an absolute blessing."
The new building is almost three times larger than Troy's shelter, but will have the same animal capacity as before.
"It's not a matter that we are looking to take in more animals," Hyslop said. "The difference is we will have a more compassionate shelter."
The new shelter has quarantine rooms for sick dogs and cats and intake rooms for new animals that arrive. Currently, if an animal needs to be separated from the others, it's placed in the office.
Each kennel will be equipped with a doggie door to allow dogs to go in and outside on their own. The new building also has two cat rooms to separate playful kittens from grumpy old cats, and, unlike the old shelter, cat and dog spaces are nowhere near each other.
"Right now we have to bring a cat right through the dogs to get to the cat room," Hyslop said, "and when the cats are outside to play, they're right next to the dog play yard."
Hyslop credits KPFL's spay/neuter program for cutting in half the number of cats and dogs that Lincoln County Animal Control has had to euthanize each year from 2003 to 2008.
The new shelter will have an on-site spay and neuter space complete with equipment, so that participating veterinarians need only to show up.
It is the shelter's goal for no animals to be euthanized because they can't find a home. KPFL has had animals up to two and a half years before being adopted out and gladly takes adoptable animals from Lincoln County Animal Control that have surpassed their 72 hours.   
When the new shelter will be ready all depends on funding.
"We're still struggling," Hyslop said. "We're fundraising, writing grants, just doing what we can."
On the Net: http://kpfl.petfinder.com
---