Libby's Sutton playing on Final Four team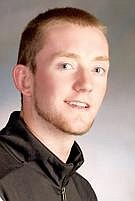 Courtesy/BHSU Aaron Sutton and the Yellow Jackets reached the Final Four.
by
Western News
|
March 17, 2009 12:00 AM
Libby native Aaron Sutton and Black Hills State University has advanced in the Final Four in the NAIA Division II men's basketball tournament
Sutton, a 6-foot senior guard, scored 12 points in a 77-73 victory over Grace College on Saturday in the tournament quarterfinals on the campus of the College of the Ozarks in Missouri. Ten of Sutton's 12 points came in the first half.
The Yellow Jackets, seeded fifth with a 27-4 regular-season record, opened the playoffs last Thursday with a 62-58 victory over Cal State-East Bay. Black Hills led 30-17 by halftime only to see the Pioneers battle back and take the lead. But Black Hills regained its composure over the final 90 seconds to advance.
Sutton scored five points on two field goals – one a 3-pointer – and 1-of-2 free throws. He also had two assists.
In the second round, Black Hills eliminated Morningside, 84-73, behind 26 points and 13 rebounds from Luke Enos, the Dakota Athletic Conference player of the year. Black Hills never trailed but led by just three points with under 5 minutes to play following a 13-1 Morningside run. Cain Atkinson hit a jumper for the Jackets and the opponent never got any closer than five down the stretch.
Sutton scored six points on one field goal and 4-of-6 free throws against Morningside. He also had two steals and one assist.
In the win over Grace, the Jackets held a 16-point lead at halftime but had to hold on to advance. It is the first-ever trip to the Final Four for the Black Hills State men. Sutton's 12 points came on five field goals, which included a pair of 3-pointers. He also had four assists.
Black Hills State was scheduled to play No. 1 seeded Oklahoma Wesleyan in the semifinals on Monday night in a game played after deadline. If the Jackets reached the championship game, it was scheduled to be played Tuesday evening against the winner of the other semifinal – Bethel (Ind.) or College of the Ozarks.
Sutton, who graduated in 2005, helped the Loggers to the state championship in 2004. A four-year letterman in the basketball program, he averaged 18 points, five assists, four steals and four rebounds per game. He had a long list of honors, including all-state, all-conference and high school All-America nominee.
Following high school. Sutton started his collegiate career at Miles City Community College where he averaged 15 points, four assists, two steals and two rebounds per game over two seasons. Those numbers helped him earn a spot on the Mon-Dak All-Conference team.
In his junior year at Regis University in Denver, Sutton averaged six points in 26 appearances – three of those starts. Prior to his senior year, he transferred to Black Hills State University.
Sutton is majoring in psychology.
The Yellow Jackets entered the playoffs ranked No. 5 in the NAIA Division II Top 25 Poll. Black Hills State – located in Spearfish, S.D. – finished the regular season riding a 12-game winning streak.
On the Net: The NAIA Division II men's basketball championship website is at www.cofo.edu/naia .
---