George Edward 'Scrawn' Earle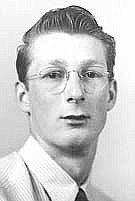 George Edward 'Scrawn' Earle
|
March 10, 2009 12:00 AM
George Edward "Scrawn" Earle, 81, died Friday, March 6, 2009.
He was born in St. Maries, Idaho, to Edith Marion Ranous and Gilbert C. George Earle, where his father was a forester. At age 4, he lost his mother and, along with his brother Pete, was cared for by his Aunt Mae and his older sister, Evelyn. After living briefly in St. Maries and Orofino, Idaho, the Earles moved to Libby where he spent most of his life. When he was a teenager, his father was remarried to Josephine Helene Krumholz.
A star athlete at Libby High School, he lettered in basketball and football, and later played and coached baseball. He met his wife, Elizabeth Anne Petrusha, a cheerleader, at a high school basketball game in Kalispell.
The couple married in 1947 at St. Joseph's Rectory in Libby. They then took up residence in Spokane, Wash., where Mr. Earle operated a gas station from 1947-51. Reluctant to raise a family in a big city, they returned to Libby for the birth of their first child, Jennifer Anne.
At that time, Mr. Earle owned and operated a Union 76 gas station in partnership with his father-in-law, Mac Petrusha. His next venture was as a Conoco oil distributor, delivering fuel oil to Libby residents and businesses.
In 1958, he began working for the J. Neil's Lumber Co. (later St. Regis Paper Co.). His role in the booming timber industry was to run a rock crusher and to manage the construction and maintenance of logging roads from the Cherokee Strip all the way to Happy's Inn. He retired in 1989 to further enjoy his vast range of interests, his many grandchildren and the home he'd built on Kootenai River Road.
A man whose personality loomed as large as his physical stature, Mr. Earle will be remembered for his unique version of dry British humor, his staunch Republican opinions, and his passion for restoring and collecting antique automobiles. He will also be remembered for his extensive knowledge of history and trivia.
He shared a special bond with his family, plants and animals. His many outdoor enjoyments included hunting, fishing, amateur forestry and bird watching. He was also an avid philatelist and numismatist who had been collecting since childhood.
He was preceded in death by his mother, father, stepmother, brother, Gilbert, "Pete" Earle, grandson Adam Seifert, great-grandson Mason Sjostrom, and most recently his sister, Evelyn Decker.
He is survived by his wife of 62 years, Elizabeth Anne; daughter, Jennifer Anne Seifert and husband James of Troy; son, Stephen George Earle and wife Kathy of Missoula; daughter, Barbara Caroline Montgomery and husband John of St. Maries; daughter, Alison Earle and husband Kevin McGowan of Seattle, Wash.; son, George Earle, Jr. and wife Melodie of Bonners Ferry, Idaho; nine grandchildren; seven great-grandchildren; and two nieces and nephews.
Services were held Monday, March 9 at St. Luke's Episcopal Church in Libby. The family requests that in lieu of flowers, donations may be made to St. John's Hospice in Libby or the Igniter's Car Club.
Schnackenberg & Nelson Funeral Home in Libby handled arrangements.
---