New class helps special students make transition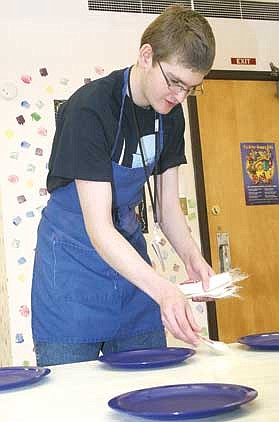 Canda Harbaugh/The Western News Junior Andy Simonis, prepares a lunch table for Kootenai Valley Head Start students as part of a new job training class offered at Libby High School.
by
Canda Harbaugh & Western News
|
March 2, 2009 11:00 PM
They march into the building, sign in and report to their stations.
Andy ties his apron strings while heading to the kitchen, Quinn commences a project he's been working on at his receptionist space, and Colten and Ben – well, they must adjust their normal routine today.
The snow is coming down so fast that Kootenai Valley Head Start personnel can't keep the sidewalks clear, so Colten and Ben take a turn with shovels before moving to their regularly scheduled tasks.  
Prioritization and conflict resolution are just a few skills these boys are learning in the first semester of a new job training class that Libby High School offers its special education students. 
Junior Andy Simonis, junior Quinn Kessel and senior Colten Willey are taking six-week rotations at three jobs created for them at Head Start. The fourth student, junior Ben Pingleton, continues working as Colten's shadow, offering additional direction if needed.
"On-the-job training is a skill that everyone could use," Jennifer Badertscher, the program's teacher, said. "It's a supported employment environment, so that when they graduate, they will already have built a resume with references and skills on that resume to take into the community."
The program is for high school students with developmental disabilities, which encompasses an array of mental and physical handicaps.
Badertscher is in her second year teaching in Libby after moving from Ketchikan, Alaska where she worked for a community-based organization in special education. She took some of her ideas from its program, which placed developmentally challenged people in various jobs all over the community. 
When Badertscher approached Kootenai Valley Head Start about a partnership that would give her students a resume-building opportunity, she received positive feedback.
"They heard my thoughts and my vision of this program," Badertscher said, "and they just greeted me with smiles and optimism. They supported me not only with their smiles, but with their flexibility."
Laura England, Kootenai Valley Head Start family and community partnership coordinator, was the driving force on Head Start's end, Badertscher said.
"We were all very excited to have the boys come," England said. "They are very polite, well-mannered, professional young men, and they just have done an excellent job for us."
While it's not the first partnership between the two schools, it is the first of its kind in recent memory, according to England and Badertscher.
"This is a pilot program this semester to take notes and learn from everybody's experience – Head Start, myself and the boys in the program," Badertscher said. "We'll take a survey – what worked well, what can be improved – and build a program from that information."
Everyday work
Four days a week, Badertscher and her students drive to Head Start, spend 45-50 minutes at their stations and then head back to the high school just in time for the bell to ring.
Badertscher floats between the students, handing out compliments and prompts when necessary.
Quinn has his own space in the main office where he performs administrative assistant duties, assembling packets for teachers, making copies, and answering and routing calls.
"I worked up to it," Quinn said. "The first thing I did was make copies. I learned how to use the machine. Then I was trained on the phone – the multi-lines."
Andy's kitchen-based job consists of setting up plates, napkins and silverware, and delivering milk to classrooms.
"You're constantly on your feet," Andy said as he wheeled a cart of supplies to a classroom. "I'm good at that type of stuff."
Head Start also benefits from the students' work.
"It allows the cook or other people to stay focused on their positions," Badertscher said. "They've carved out jobs that (the students) are great at and that they can manage independently."
"It frees up some time in other areas for us," England said, "and anything we can do to partner with community agencies is a benefit for us.
Andy said that this class is his "absolute favorite." Next week, he'll rotate to the janitorial job, which has been Colten's post.
Colten sanitizes the children's play equipment, sweeps and mops floors and performs whatever other tasks come up.
His aunt and legal guardian, Nicky Willey, is a strong advocate for the new program. She cited her nephew's enthusiasm for the class, as well as the practical skills he's learning.
"He's out in the community and that's why he likes it so well," Willey said. "Colten comes home and tells me everything he's done over at the Head Start."
An eye on the future
As a senior, Colten looks to the future more than his classmates. When asked what he will do after high school, he shrugged and said, "I'm trying to figure it out."
Colten moved to Libby with his family two years ago from Oklahoma. He faces the same challenges as other high school seniors who are trying to discover their niche in the world. However, the additional challenge of a mental handicap complicates his housing and employment options.
Federal law mandates that high schools have a transition component that prepares students for life after graduation. The Libby class is an addition to the current curriculum, Badertscher said.
"To gain paid employment or be able to live independently or at least with minimal support after high school – these are goals that are set by the parents and special education teachers, as well as the students themselves," Badertscher said. "These are achievable goals."
Though Willey and her husband planned on their nephew always living with them, Colten wants more independence. Willey, ever encouraging, put him on the waiting list for an assisted-living apartment.
Colten is a capable individual. Willey contemplates whether or not he can obtain gainful employment after high school. She hopes so.
"I really don't know yet," Willey said. "He's the type of kid that needs supervision. He has actually talked about working at Les Schwab. We're hoping that he can get some sort of job in the community like that."
After further reflection, she added, "I think he can do a job out in the community."
The program's potential
Badertscher hopes that eventually the job-training class may be extended to a two-period block and that the high school will forge more community partnerships.
"The ideal would be to have different settings in the community, to provide a variety of job training for the students' various interests," Badertscher said. "I'm hoping that other community agencies will be able to talk with myself or Head Start employees and see that the benefits are so vast."
Though her nephew won't be in school long enough to see the program's development, Willey strongly supports it and believes in its potential.
"Kids need this program," Willey said, "because they need something to look forward to after high school."
---