Arline C. "Pokey" Woltz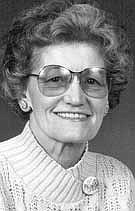 Arline C. "Pokey" Woltz, 90, died Friday, Feb. 27, 2009 at her home in Libby.
She was born Dec. 11, 1918 in Cass Lake, Minn., to Joseph and Louise Cloutier. She was the youngest of 11 children. She moved to Libby when she was a baby. Later she moved with her family to Hoquiam, Wash., and then to Shelton, Wash. She graduated from Irene S. Reed High School.
After high school she went to Spokane, Wash., to go to beauty school. She then returned to Libby. She was known to the community as "Pokey" – a nickname she got from her brothers.
On Sept. 8, 1940, she married L.D. Lampton. An Army pilot, her husband died in 1944 during World War II.
On May 19, 1947, she married John Woltz, and they enjoyed 36 years together until his death in January 1984. On Aug. 23, 1950, a daughter, Kay, was born. The couple adopted her when she was 2 months old.
Mrs. Woltz loved flowers and enjoyed working in the garden. She was a great artist of floral watercolors.  She was a teacher of religious education at St. Joseph Catholic Church.
Survivors include her daughter, Kay Woltz, of Libby; and numerous nieces and nephews. Also mourning her passing are special friends, Glenda Wood, Patty Ryals and Marge Stickney – all of Libby.
Services will be Thursday, March 5 at 11:00 a.m. at St. Joseph Catholic Church in Libby. Visitation will be from 1-7 p.m. on Wednesday with rosary at 7 p.m.
Schnackenberg and Nelson Funeral Home in Libby handled arrangements.
---