Susie-Marleen Claire Bradshaw Davies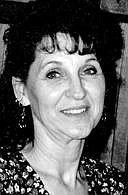 Susie-Marleen Claire Bradshaw Davies
Susie-Marleen Claire Bradshaw Davies, 67, died June 14, 2009.
She was born April 21, 1942 in Williston, N.D. She worked for Spokane School District 81 as a food service kitchen manager.
She is survived by three daughters, Lisa Davies, Mernie Davies and Cooky Davies; brothers, Ronnie, Gordy, Terry, Dick and Tom Bradshaw; sisters, Barbara Blackburn, Mary Winslow, Betty Welch and Danna Passmore.
Graveside services are scheduled for June 27 at 2 p.m. at Milnor Lake in Troy. Burial will be next to her mother and father.
Spokane (Wash.) Cremation and Burial Service handled arrangements.
---