James E. Kelso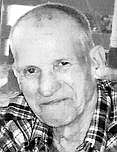 James E. Kelso, 78, a Troy resident for 48 years, died June 21, 2009 at Libby Care Center.
He was born on Feb. 9, 1931 at Advance, Mo., to Oral and Gertrude (Thompson) Kelso.    
He worked in the timber industry and drove a logging truck. In his spare time, he worked on vehicles, including helping others with their vehicles. He also enjoyed hunting, fishing and gardening.
He was preceded in death by his parents, Oral and Gertie Kelso; two sons, James and Travis Kelso; two sisters, Mary and Wanda Cruiz; and one grandson, Elijah Rankin.
Survivors include his wife, Nancy Kelso; a brother, Leonard Kelso; a sister, Hellen McMillon;
Daughters, Bonnie Kelso, Donna Montgomery, Joan Nickelson, Kim Kelso, Connie Kelso and Jean Hartley; sons, Roy Kelso and Mark Kelso; 24 grandchildren and 35 great-grandchildren.
Services will be held at Troy Community Baptist Church on Monday, June 29 at 2 p.m. local time. Interment will be at Grand View Cemetery in Bonners Ferry, Idaho at 4 p.m. (PST).
---