Ted S. Fisher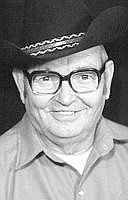 Ted S. Fisher, 83, died June 20, 2009 at his home in Troy.
He was born Oct. 8, 1925 to Alvina and Clarence P. Fisher in Scobey. He went to school in Scobey through the eighth grade. He worked on ranches around the area until age 16. At that time, he went to work in a coal mine north of Scobey
At around age 17, he moved to Kalispell and worked in Harry Hoiland's grocery store delivering groceries. He later worked for his brother, Marion, in a sawmill.
He left for the Army from Kalispell at age 18 and fought in Germany during World War II. He was discharged before age 21 on points for overseas duty.
Mr. Fisher worked as a mechanic in Scobey after his discharge until moving back to Kalispell and working for his brother again. He worked in the North Fork logging and in many other places around Kalispell. He also worked in a sawmill for his brother in many places before moving to Troy in 1956 – still working for his brother. In 1958, he went to work for J. Neils Lumber Co., later named St. Regis and then Champion. He was injured in the mill in 1986 and forced to retire.
Mr. Fisher worked with horses most of his life and was known as a good rider. He also did a little leather work, making gun scabbards, bullet pouches, saddle bags, bridles, horse harness and many other things, and also repaired saddles and harness. He liked to build horse-drawn buggies, carts and wagons, and also restored an old sleigh and a single-seat cutter.
He was preceded in death by his parents; a son from a previous marriage at the age of eight days; wife, Muriel; stepdaughter, Valinda; four brothers, Marion, Ray, Ralph and Elmer; sister, Edith; and one great-granddaughter, Rachel.
Survivors include son, Wayne and wife Teresa of Troy; daughter, Yvonne and husband Richard of Winnemucca, Nev.; stepdaughter, Denise and husband Marvin Speck in Troy; brothers, Ben and Ardean; sisters Violet Thompson, Betty Roos and Mary McKinny; 12 grandchildren, Tallie, Paula, Terra, Chera, Bobi Jo, Jeremy, Heidi, Jodi, Misti, John, Arwyn and Brianna; and 10 great-grandchildren, Ashley, Derek, Shelby, Hannah, Kiara, Kelsey, Blake, Bradley, Brady and Andrew.
Services will be Friday, June 26, 2009, at 11 a.m. at Milnor Lake Cemetery in Troy.
Schnackenberg & Nelson Funeral Home in Libby handled arrangements.
---