Kids get hooked at fishing derby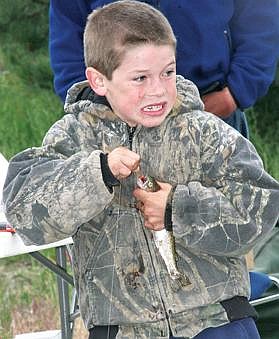 Canda Harbaugh/The Western News Trevor Hoagland, 8, cringes as he tries to unhook a fish from 5-year-old Alexis Huffman's line. The two participated in the Kids Fishing Derby at Troy Community Pond on Saturday.
by
Canda Harbaugh & Western News
|
June 23, 2009 12:00 AM
Junior anglers hurled their lines into the Troy Community Pond on Saturday morning with hopes of catching the biggest fish and winning the grand prize – a fishing pole with flashing lights on the reel.
But judging by the kids, scattered around the pond with their parents, grandparents, siblings and friends, just catching a fish – no matter the size – was exciting enough.
Montana Fish, Wildlife and Parks has put on the derby since the Troy Community Pond was developed six or seven years ago, Jim Dunnigan of FWP said. Kids are equipped with fishing poles and bait, free of charge, and compete to win prizes.
Saturday morning, a clamor and squeal of joy could be heard about every 15 minutes, and shortly afterward, a smiling child would march to the weigh-in table with his or her prize fish.
Alexis Huffman, 5, was no exception, although she didn't march – she scampered. Around the pond she went … with a fish about seven inches long dangling from her line.
"Look!" she cried as she made her way to the weigh-in table. 
Her name didn't make it on the board, where FWP kept a running tally of the top-weighing fish, but Huffman was not discouraged.
"It's my first time catching a fish!" she exclaimed and strolled back to her spot next to her grandmother, Deb Welcome, and her 9-year-old brother, Christian Huffman. Her 13-year-old brother, Ryan Huffman, fished across the pond with his friends.
"It's her first time catching a fish today," Welcome clarified. "She's caught tons of fish before."
Huffman, who has participated in the annual event since she was 3 years old, caught a fish at last year's derby too, but no matter how many she snags, each time seems to be as exciting as the first.
Some participants, like Huffman, have fished with their families since they could walk, and at least one participant – 11-year-old Cody Johnston from Downey, Calif. – had never fished at all before. 
The derby has become a tradition for many children in Troy and Libby, Dunnigan said.
"We get a lot of repeats every year," Dunnigan said. "The kids just love it."
FWP has considered starting up an annual children's derby in Libby, Dunnigan said, though figuring out the location has held up the process.
For Dunnigan, the reward of putting on the derby is the children's excitement.
"It's good to see the kids have a good time," Dunnigan said. "It's really rewarding to see some of the younger kids, their first time catching a fish."
Derby Winners
1. Stephan Toran, 2.58 lbs, 19 inches
2. Craig Chamberlain, 0.92 lbs, 14 inches
3. Brock Powers, 0.72 lbs, 13.2 inches
---