Jane E. Palmer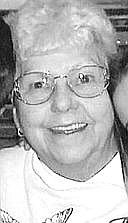 Jane E. Palmer, 80, of Libby died Friday June 19, 2009 at her home the Libby Care Center.
She was born May 24, 1929 in Potsdam, N.Y. to Merriman and Ethel Castle.  She grew up and attended school in Potsdam. She and her husband, Vincent Palmer, were married for 53 years.
Mrs. Palmer moved to Libby in 1981. She worked for the U.S. Forest Service for a while. She enjoyed fishing, snowmobiling, bowling, berry picking and her grandchildren.
Her husband and a sister, Connie, preceded her in death. 
Survivors include her daughter, Donna Knoepke of Troy; Travis Miller and wife Dolly of Troy; two sisters, Joyce Arbogast of Sheridan, Wyo., and Mable Deon of Troy; grandson, Michael Miller of Troy; granddaughter, Hadassah Miller of Troy; and numerous nieces and nephews.
Services will take place in Hammond, N.Y.
Schnackenberg & Nelson Funeral Home in Libby handled arrangements.
---