Unique competition to include local trainer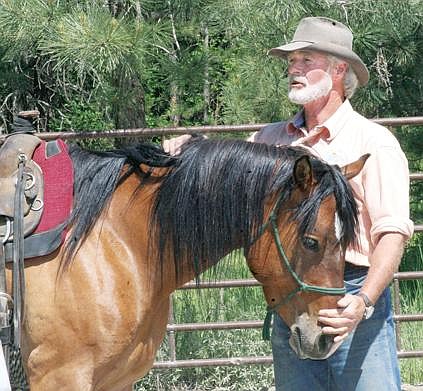 Canda Harbaugh/The Western News Horse trainer Phil Gunning works with a client's horse, Indy, that he will be taking to a competition in Sandpoint, Idaho next week.
by
Canda Harbaugh & Western News
|
June 16, 2009 12:00 AM
Using a rod with a crinkly piece of blue tarp taped to the end, Phil Gunning worked Tuesday to desensitize a horse to quick movement and sudden sounds. He rapidly swished the rod back and forth in front of the horse, on each side and directly behind it.
A client's horse, 4-year-old Indiana – or Indy – didn't even twitch.
Gunning doesn't consider himself a "horse whisperer" – just a guy who fell into horse training as a hobby and eventually made it a career.
"It's all been done before," Gunning said about horse-training methods. "It's not like I have something special – it's just a matter of whether you can do it or not."
Gunning believes in first gaining respect and good movement on the ground with the horse and then moving to saddle work.
Gunning, who runs Cabinet Mountain Horse Training in Libby, will participate next weekend in a competition in Sandpoint, Idaho that has been likened to a cowboy reality show. He and three other contestants from Idaho and Washington will spend three days training a young horse of their choosing to perform several advanced maneuvers in the fifth annual Horsin' Around Horse and Mule Expo.   
Expo organizers sought out three area trainers for the competition and the fourth participant, Gunning, "stepped up to the plate," organizer Cyndi Steele said.
"We interviewed him and watched him work to make sure he was a qualified trainer," Steele said, "and not just some backyard person that works with horses."
Gunning has several years of horse experience – starting with endurance racing in Nevada and Texas and then training horses on ranches in Texas and Arizona.
"I didn't do it as a start of a career," he said. "It was an enjoyment thing first and it escalated from there."
Originally from New Zealand, Gunning has lived in the United States for 35 years and moved to Libby in 2002. This competition will be the first of its kind that he has ever participated in.
Trainers will bring a horse aged 2-6 years old that hasn't been ridden more than 40 times.
Indy had only been ridden twice in the past two years when Gunning began working with him last month.
"He was basically pushy and lazy," Gunning said. "He is a very sweet little horse, just lazy."
The two will work together five days per week until the competition begins June 19. Gunning performed quite a bit of groundwork with Indy already and has had the horse go through an obstacle course and practice potential commands and maneuvers. Indy will have 30 rides on him by the competition, Gunning said.
While riding Indy inside the round pen at J. Neils Memorial Park on Tuesday, Gunning demonstrated what the judge would be looking for.
"I have loose reins like this, see?" he said. "I'm asking him what to do basically with my legs."
Gunning commanded Indy to walk, trot and canter. Though he's getting training in before the competition, Gunning anticipates a few surprises at the event
"I'm sure there's going to be stuff in there I'm not prepared for," he said.
That's part of the fun of watching the event, Steele said. On Friday night, trainers will be handed a list of advanced maneuvers and obstacles that their horses must be able to perform by Sunday afternoon's competition. 
"They only have three sessions," Steele said, "to work on the things (the horses) are not quite doing so they can execute the maneuvers they're given."
They will have three 75-minute sessions to work with their horse at the expo and to demonstrate their personal training methods. On Sunday afternoon, they will compete for the title of 2009 Trainers' Challenge champion.
"What I'll be looking for is a horse that is calm and controlled," judge Gail Silkwood of Moscow, Idaho said. She also wants to see "a bond between the horse and the handler."
Information
What: Horsin' Around Horse and Mule Expo, sponsored by Days Inn Sandpoint & Joint Oats 4 Horses
Where: Bonner County fairgrounds in Sandpoint, Idaho
When: June 19-21
For more information about the
Horsin Around Expo go online to:
www.horsinaroundexpo.com
---