German grapplers try soccer vs. LHS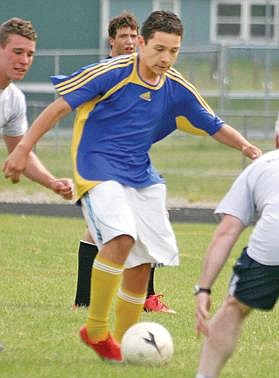 Brad Fuqua/The Western News Libby's Edson Vinces works with the ball vs. the Germans.
by
Brad Fuqua & Western News
|
June 16, 2009 12:00 AM
Putting on a series of exhibition matches around Montana, a club wrestling squad out of Baden-Wurttemberg, Germany has seen its share of time on the mat while experiencing the United States.
On Sunday afternoon at Libby High School, the wrestlers took a break from their primary sport to take on the Loggers in soccer in an exhibition game that raised money for both soccer and wrestling programs.
"It was fun to watch them all play," LHS coach Charlie Webster said after the Germans edged the Libby team, 4-3. "It was my last chance to watch some of the seniors play together."
With the athletic abilities of wrestlers combined with the fact that soccer is a popular sport in Europe, the Germans put a pretty capable squad on the field. Libby, meanwhile, is coming off a Class A state title and about half of its players on the field last weekend played for the Kootenai Rapids, a U16 squad that recently won the Montana Cup.
"The Germans played great soccer," Webster said. "They kept great possession and passed the ball extremely well. They played well as a team."
The game remained deadlocked in a scoreless tie through the first two "periods." Germany then broke through and got on the scoreboard on a penalty kick. The game remained close but the Germans were able to build a two-goal cushion.
Libby's goals were scored by Edson Vinces on an assist from Daniel Webster; Nick Reny on an assist from Cree Maloney; and Kyle Berke unassisted.
"We shot high and wide a lot … we had a lot of good opportunities but didn't capitalize," Webster said. "It was an evenly matched game."
Scores and stats aside, Webster said he believes the event raised about $120 each for wrestling and soccer and added, "I think everybody had a good time."
---