WN Hiking Series: Solitude on Flagstaff Mountain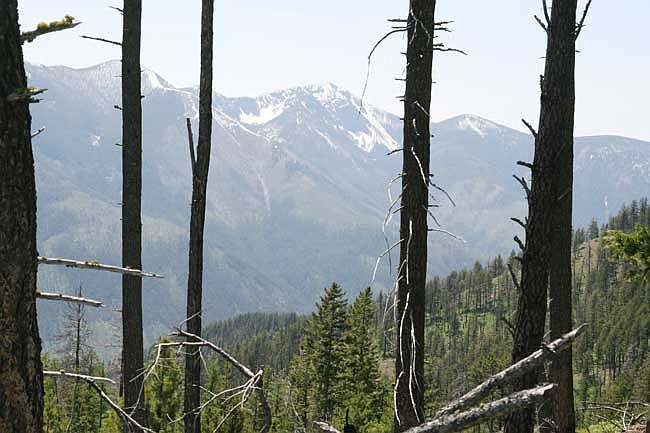 Brad Fuqua/The Western News A view of the mountains through a patch of woods on Flagstaff Mountain.
by
Brad Fuqua & Western News
|
June 11, 2009 12:00 AM
With the warm Montana sun beating down, hiking up a somewhat steep trail on Flagstaff Mountain proved to be a challenge – at least for a middle-aged 40-something that has been sitting at a computer keyboard for too many years.
The drive out to Flagstaff Mountain Trail No. 43 was interesting (see directions in the accompanying graphic). The winding route along Forest Road 4690 requires focus of the driver with the occasional large rock that made its way down to the road and steep drop-offs that can make your heart skip a beat.
Once you reach the trailhead, you'll see a shot-up sign that reads, "Trail No. 815, Flagstaff Mtn." So, at first, you may question as to whether or not you've reached the right spot. Forest Service maps and guides identify the trail as No. 43.
Nevertheless, it's a well-defined trail that almost immediately begins a steady climb up the mountain. Bring water and a hiking stick and watch those loose rocks – especially on your way down. You will get a cardiovarscular workout on the climb and the views, well, it's difficult to describe in words. They are spectacular.
After about 10 or 15 minutes, you can look over your shoulder and see the Kootenai River and Libby in the distance – at least on a bright day. And when the sun is just beginning to get too hot, you'll find spots where you can catch a breather in the shade.
Many types of wildflowers were blooming on this June day – including purple-eyed mariposa and mountain bluebell – to name just a couple. The flowers bloom a little later at the higher elevations. Although there are signs of wildlife everywhere – we didn't see any on this excursion besides a very large raven. Butterflies were common but so were mosquitoes in the wet spots.
At the summit, snow was still on the ground – just patches and a cool-looking sort of "snow cliff." And again, the views were incredible with the Cabinet Mountains, Kootenai Valley and the Selkirk Mountains of Idaho all visible.
According to information in the Libby Ranger District's hiking guide, the trail is described as having "low difficulty" and a good family outing. However, many may find the climb a bit challenging so it could be rated as moderate.
Flagstaff Mountain Trail
Location: Kootenai National Forest, Libby Ranger District
USFS Trail No.: 43 (however, sign at trailhead identifies as No. 815)
How to Get There: From Libby, take Highway 37 and turn left onto Kootenai River Road. After about four miles, take a right onto Quartz Creek Road 600. Just after mile marker 5, veer to the left onto West Fork road and follow it until you come to a "T" junction after crossing the west fork of Quartz Creek. Turn left onto Forest Road 4690 and follow for approximately 7 miles to the trailhead.
Length: 2 miles
Difficulty: Moderate
---