Blackout leads to rollover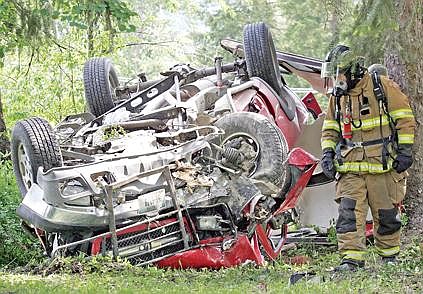 Paul Sievers/The Western News Volunteer firefighter Corky Pape looks over the wreckage Tuesday near Libby.
by
Canda Harbaugh & Western News
|
June 11, 2009 12:00 AM
An 80-year-old man blacked out and rolled his pickup Tuesday afternoon while traveling north on Highway 2 outside Libby.
Earl Goyen appeared to suffer only cuts and scrapes from the accident that sent his 2003 Chevy Silverado across four lanes of traffic and into a tree, according to Montana Highway Patrol officer Bruce Broden. No one else was hurt.
Though Broden is still investigating, he suspects that Goyen suffered a medical episode that caused him to black out. He said that alcohol was not a factor.
"He doesn't remember what happened," Broden said. "Witnesses said when they looked at him, he appeared coherent, his eyes were open and he was looking straight ahead."
Amanda Skranak saw the accident while driving behind Goyen. He passed her on the outside lane, she said, and then traveled on the right shoulder. She had initially thought he was preparing to take a right turn, but the pickup jumped the curb, got back onto the road and veered left, she said. It crashed about two miles south of Libby.
"He shot onto the left side of the road and hit a tree," Skranak said. "He hit the tree going 50 mph and just flipped over. He didn't touch his brakes once."
Skranak estimates that she was only 50 feet behind him when he crossed in front of her.
"I'm just thankful that no one else got hurt," Skranak said. "I'm glad he didn't take anyone out when he launched across the highway."
Broden said that the angle of the large spruce tree and the speed that Goyen was traveling caused the pickup to climb up the tree and then roll onto its roof.
When witnesses approached Goyen, he was conscious but initially was not very responsive, Skranak said. He was hanging upside down by his seatbelt when he came-to, and he panicked briefly to get loose. Libby Volunteer Ambulance transported him to St. John's Lutheran Hospital shortly afterward.
The accident occurred about a mile south from the crash site of another accident last week that totaled two vehicles.
---