Lady Loggers go 1-2 in state playoffs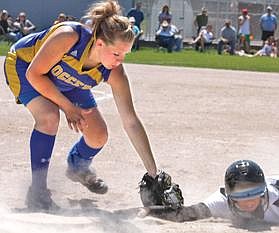 Mike Cast/Lake County Leader Jordan Refsland of the Lady Loggers checks a runner at first base during Thursday's first-round game against Ronan. The Lady Loggers finish with a 12-13 overall record.
by
Western News
|
June 2, 2009 12:00 AM
The Libby High School softball team ended the season by winning one of three games in the Class A state playoffs at Polson.
The Lady Loggers opened on Thursday with a 4-0 loss to Ronan. Maidens pitcher Kaylee Larson fanned nine LHS batters and allowed just one hit – a single by Libby's Amber Grubham. Meanwhile, Ronan scored two runs in each of the first two innings to build an early lead.
The following day, Libby rebounded in an elimination game against Columbia Falls, 8-5.
The Loggers played nine innings to get the victory. After Columbia Falls rallied to force the game into extra innings, Libby scored three in the top of the ninth and then held on for the win.
Nicky Lapka had a good game at the plate with a pair of hits, including a double and two RBIs. LaRona Luscher went 3-for-4 with one RBI. Lexi Hageness and Jaime Gilden added two hits apiece. Grubham and Emily Monroe hit doubles.
Taylor Armstrong got the win at pitcher.
Corvallis ended Libby's season later in the day with a 7-1 victory. The Blue Devils broke open the game in the top of the sixth inning with four runs. The Lady Loggers collected nine hits in the loss but stranded runners. Libby also kicked the ball around on defense with seven errors.
Lapka had a 3-for-4 effort with two doubles at the plate in her final game. Candace Hendrickson was 2-for-4 and scored the lone run. Luscher also had a pair of hits.
Libby ends the season with an overall record of 12-13.
Class A
State Playoffs
At Polson
Thursday's Results
Ronan 4, Libby 0
Frenchtown 10, Havre 3
Columbia Falls 4, Livingston 2
Corvallis 3, Laurel 0
Belgrade 3, Ronan 0
Frenchtown 5, Polson 0
Billings Central 7, Columbia Falls 5
Butte Central 8, Corvallis 0
Friday's Results
Frenchtown 7, Belgrade 4
Butte Central 3, Billings Central 0
Ronan 7, Livingston 2
Polson 4, Laurel 2
Libby 8, Columbia Falls 5
Corvallis 2, Havre 1
Ronan 1, Polson 0
Corvallis 7, Libby 1
Belgrade 7, Corvallis 5
Billings Central 9, Ronan 3,
Saturday's Results
Frenchtown 4, Butte Central 0
Belgrade 8, Billings Central 1
Butte Central 7, Belgrade 6
Championship Game
Frenchtown 6, Butte Central 2
---