Governor visits Libby to hail Stinger operation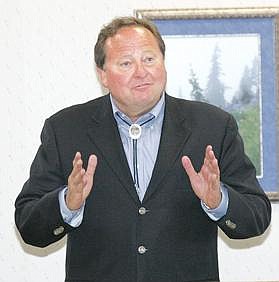 Paul Sievers/The Western News Gov. Brian Schweitzer talks about jobs on the horizon in Libby during a visit on Monday morning.
by
Canda Harbaugh & Western News
|
July 30, 2009 12:00 AM
The Montana Department of Commerce awarded more than $5.7 million in grants and loans to fund a bridge-building operation that is expected to provide at least 200 jobs within the next four years.
The state funds were in place last month when Coolidge, Ariz.-based Stinger Welding entered into an official contract to expand to the Kootenai Business Park Industrial District. 
Gov. Brian Schweitzer and Anthony Preite, director of the Montana Department of Commerce, celebrated the partnership during a press conference Monday.
"This was a very, very complicated project," Preite said Monday. "These kinds of projects just don't get put together everywhere. It takes a special kind of people driving it."
Preite praised the work of Paul Rumelhart, executive director of the Kootenai River Development Council, for his tireless efforts to bring the project to fruition.
Rumelhart said that it takes infrastructure and the leveraging of local, state and federal money to create fertile ground for the private industry to create jobs.
"These two components really worked together in this particular project very well," Rumelhart said, "almost hand in glove, I would say."
Schweitzer pointed out that the jobs are meaningful because they will pay at least $13.55 per hour, on top of benefits.
"This is important because it's not 200-something jobs (to cater to) tourists or to fill gas – those jobs are important, too – but these are industry jobs that pay like mining and logging jobs," he said.
Schweitzer pointed out that Stinger could have built its new facility anywhere, but it chose Libby because Montana offered the best deal.
"We offered them job training, a tax package and a financing package that was better than they could get in Minnesota, better than Wyoming, better than Colorado…," he said.
Schweitzer also spoke to Stinger Welding president Carl Douglas during his address Monday. 
"Stinger made a good choice here because when you look around this community, you're going to find that you will get more work for the buck than you will in any other place in America," Schweitzer said. "This is the stock of loggers, miners, people who have worked hard for generations – people who show up on time and work late until the job is done."
Breaking Down the Numbers
The Montana Department of Commerce contributed more than $5.7 million in grants and loans through the following department programs:
• Workforce Training Grant: $1,020,000 to Stinger Welding. For training a minimum of 204 workers within four years.
• Montana Board of Investments: $3,366,500 to Kootenai Business Park Industrial District. An infrastructure loan for the purchase of the land and building. Funds are provided through the Permanent Coal Tax Trust. Stinger will use this loan to pay the construction loan from Glacier Bank.
• Community Development Block Grant – Economic Development: $800,000 to Lincoln County and the City of Libby. For equipment purchases. Equipment will be owned by the Industrial Park and leased to Stinger Welding.
• Big Sky Economic Development Trust Fund: $529,000 to Lincoln County. For equipment purchases. The funds will support the creation of 71 of the total jobs created.
Other funds that have been leveraged:
• $3,400,000 from the Kootenai Business Park Industrial District
• $2,700,000 in a Glacier Bank loan
• $1,000,000 from Stinger Welding
---