Belly laughs: Teacher-turned-rodeo clown makes name for himself in arena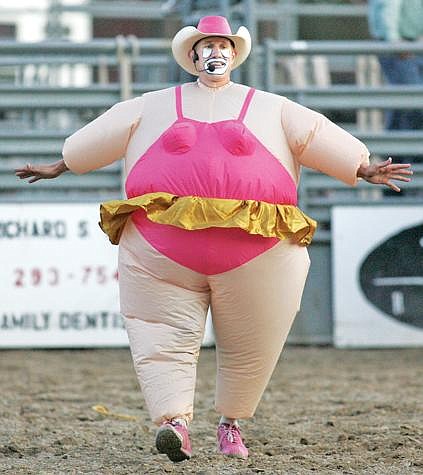 Paul Sievers/The Western News J.J. Harrison entertains with an inflatable female fat suit.
by
Canda Harbaugh & Western News
|
July 28, 2009 12:00 AM
In the lull of the rodeo when organizers are transitioning between events, spectators can get antsy. That's when J.J. Harrison strolls in.
The 33-year-old self-prescribed goofball pops in early and works his magic until the crowd is roaring with laughter and children are chanting his name. 
"When you can hear people belly laughing – to me, that's the absolute best feeling," Harrison said, describing the perks to being a barrelman and rodeo clown.
Harrison says his antics aren't really antics at all but just his personality. As a former middle-school teacher, he connects with kids, and as an outgoing jokester, he makes the adults laugh, too.
Harrison, who lives with his wife and 15-month-old son in Walla Walla, Wash., made his first Montana debut at Libby's Kootenai River Rodeo this weekend in his third year as a professional barrelman and rodeo clown.
Bullfighter Mick Thompson recommended Harrison for this year's rodeo after working with him through the years. Thompson compliments Harrison's fresh, off-the-cuff humor that avoids clichés like firecracker explosions and predictable punch lines.
"The thing with J.J. is you don't know what he'll do," Thompson said. "He's really a fly-by-the-seat-of-your-pants kind of guy."
Harrison admits he has some plans in mind before a rodeo begins – such as the inflatable female fat suit he sported for Libby spectators – but his work isn't scripted, and it's funnier that way.
"I do whatever I think is funny at the time," he said.
That includes throwing himself into the mud if such an opportunity exists, poking fun at himself and spectators, making up lyrics that relate to the particular rodeo and dancing.
"Not everybody (who attends) is the biggest rodeo fan, but everybody knows entertainment," he said. "I like to be that bridge from the contestant to the fan."
Having competed in rodeo throughout high school and college, Harrison was familiar with the role of barrelmen and rodeo clowns, but he never had an inkling that he would become one. He performed his first rodeo after a friend suggested him for the job.
"He told me, whenever you're at a rodeo you end up with the crowd around you anyway," Harrison recalled.
Harrison tackled the job by preparing three drawn-out scripted acts for the main breaks.
"They all fell apart, so I just ad-libbed and that's what made it funny," he said. "That's how I decided that was my cup of tea."
Harrison immediately received phone calls for more gigs, and spent summers working rodeos in the Pacific Northwest. His career hit a turning point two years ago when he initially turned down a big job because it conflicted with his teaching schedule.
After much thought, he decided to take on rodeo full-time and give up teaching for at least a few years. 
"That decision wasn't easy to make," he said, "because I really love teaching, and I really love kids."
Harrison will toss a football back and forth to the kids in the crowd and after the rodeo, he's been known to visit with them – answering questions, high-fiving and handing out trinkets.
"My 8-year-old daughter just loves him," Thompson said. "Kids will seek him out at rodeos."
Bullfighters like Thompson protect cowboys by distracting the bull during dismount. Harrison, using a brightly colored barrel, can also become an alternate target, though his main job is entertainer. 
"I don't try to be a bullfighter," he said. "You can't with that barrel – you just take punches when necessary."
Harrison has received broken ribs and will go in for surgery at the end of the season to correct a hip problem. It's pretty typical, he says, adding that he usually keeps his distance from the bulls. 
Harrison's name has been getting out to the rodeo world. While he works mostly in the Pacific Northwest, he said he's getting calls from further east, like Colorado. Harrison said he'll ride the wave as long as he can, but he doesn't fear the day he will have to retire from the rodeo clown business.
"The advantage is I have a master's degree to fall back on," he said. "If it doesn't work out, I can go back to teaching. That's my comfort zone."
---