New wildlife book showcases Troy photographer's work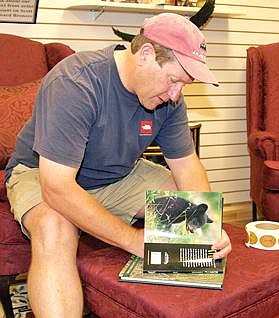 Brad Fuqua/The Western News Photographer Donald M. Jones signs a copy of his latest book.
Shooting from afar with a zoom lens, Donald M. Jones captured incredible images of three cubs riding atop their mama black bear. The playful cubs proceeded to push each other off until just one remained.
"That was just a distant, oddball thing I took many years ago," Jones said. "They were just climbing on her back and riding her like an opossum. In that shot, there was late snow and some snow fell off the limb of a spruce tree behind me. That's what made them look and then they went back to feeding."
The images were so unique that Audubon accused Jones of creating them digitally. But with a series of photos, he was able to prove their authenticity.
The bear cubs represent just one of the subjects in Jones's sixth book, "Born Wild in Montana." Published by Farcountry Press out of Helena, the book features 96 images of babes in the wild from all areas of Montana.
Jones goes to great lengths to go unnoticed in the backcountry. One of his primary goals is to shoot photos of wildlife in their natural state without human interference. Birds of prey are among his favorite subjects.
In the book, an interesting shot of a ferruginous hawk can be found.
"While photographing, I knew the babe was trying to eat something," Jones recalled. "It turned out to be the head of a Richardson ground squirrel. There's the head of a squirrel looking right at you."
Capturing wildlife is no easy task and Jones can share stories about what goes into getting the shot. Sometimes, he relies on the help of locals to point him in the right direction or provide information that he can use to determine his strategy. When it comes to bears, he takes a slightly different approach.
"I shoot everything from the road … I don't approach them in the backcountry," Jones said. "I shoot from logging roads to highways, whatever it takes. If I pull up and the bear doesn't leave, then I say, 'OK.' … I stay by my rig, sometimes in my rig."
Just this past spring, Jones encountered two bear cubs that got a little close.
"She had two cubs and at one point, the cubs came closer to me than she was and she got a little upset," Jones said. "I got into my vehicle."
Jones said he's never ashamed to tell people that he'll shoot bear photos from his vehicle.
"I don't mind going out in the bush for other stuff but with bears, I just don't feel comfortable doing that," he said. "As best I can, I want to be a fly on the wall and see the natural behavior … you get that body language, what it's like to be a bear without having me in the picture."
"Born Wild in Montana" is available at Cabinet Books and Music in Libby.
---