Logger trio helps team win state championship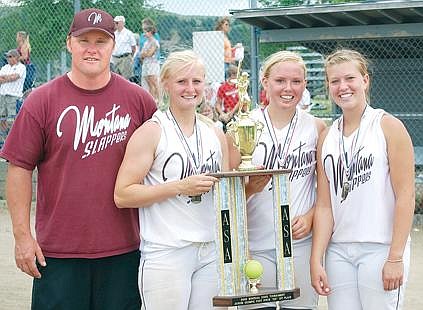 Courtesy The Montana Slappers took the ASA state title in the U18 division last weekend in Bozeman. Coached by Jeremy Hageness, from left, the team included Libby players Brooke Hageness, Laice Dedrick and Nicky Lapka.
by
Western News
|
July 16, 2009 12:00 AM
A trio of Lady Loggers helped the Montana Slappers take the U18 championship game on Sunday in the State ASA softball tournament at Bozeman.
Brooke Hageness, Nicky Lapka and Laice Dedrick – all of Libby – play on the team. The team's head coach is Jeremy Hageness.
Brooke Hageness earned victories on the mound in three of the four tournament games for the Slappers. In the Slappers' 8-7 victory in the championship game over the Missoula Lady Osprey, she entered the game in relief of starter Danielle Axe of Missoula and allowed four hits and no walks while striking out five.
Hageness also contributed at the plate in the big finale with a three-run homer in the fourth inning to give the Slappers a 4-3 lead over the Lady Osprey.
The Missoula team regained the lead 7-4 only to see the Slappers stage a comeback with four runs in the bottom of the fifth.
Many of the same players on the Slappers roster were part of an ASA state champion team in 2006. Meanwhile, the Lady Osprey had won the U16 state title last year.
Dedrick played catcher on the team while Lapka took care of business at third base.
The same two teams had met on Saturday in the winner's bracket of the double-elimination tournament. In another close battle, the Slappers won that contest, 2-1, with the game-winner coming on a passed ball.
Coach Hageness said the Slappers' roster includes players from all around northwestern Montana, including athletes out of Columbia Falls, Polson and Kalispell – along with three out of Missoula.
---