Glenn E. Ryals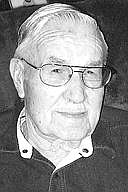 Glenn E. Ryals, 89, died July 7, 2009 at St. John's Lutheran Hospital in Libby.
He was born June 20, 1920 to Austin and Alta Lula Spriggs Ryals in Gering, Neb. He was the sixth child of nine. His family moved to Everett, Wash., when he was a child. He attended Everett High School, excelled in football and was a member of the basketball team that took state in 1937.
He married Millie J. Hoag on April 16, 1940. She preceded him in death in 1990. A daughter Sally was born June 2, 1943 and preceded him in death in 1949. In 1944, he joined the U.S. Navy and served in the South Pacific during the invasion of Okinawa. He had an honorable discharge in 1946.
Mr. Ryals worked for Hickey Trucking from 1946-58. He moved his family to Darrington, Wash., where he was employed by the plywood plant until 1965. While in Darrington he served as police commissioner, volunteer fireman and Cub Scout and Boy Scout leader.
After working in Marysville, Wash., with Everett Plywood and Keller Supply Plumbing, he retired in 1982 and moved to Libby to be close to children and grandchildren. He married Patricia Leader on Oct. 5, 1991.
He is survived by his wife, Patricia; daughter and son-in-law, Glenda and George Wood of Libby; daughter, Stephanie Ryals of Sandpoint Idaho; son, Steven G. Ryals of Lubbock, Texas; stepchildren, Charlotta, Richard, Kenneth Leader, Theresa Byrd, Christina Boothman; grandchildren, Brenten (Jodi) Williams; Kaylene Williams; Kraig and Jeana Wood; Shyla Lynch and Mayla Jo; Chanel (Kevin) Swartz; five great-grandchildren; and numerous great grandchildren.
Visitation was scheduled for July 9 from 1-8 p.m. at Schnackenberg & Nelson Funeral Home in Libby. Services will be July 10 at 1 p.m. at the Church of Jesus Christ of Latter-day Saints in Libby. Graveside services will be July 13 at 10 a.m. at the Cypress Lawn Cemetery in Everett, Wash.
---