Sheila O. Kenelty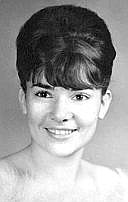 Sheila O. Kenelty, 60, a lifelong resident of Libby, died July 1, 2009 following a four-year battle with cancer.
She was born Nov. 15, 1948 in Libby to Oliver and Margaret Coffman Decker. She grew up in Libby and graduated from Libby High School with the Class of 1967. She then attended cosmetology school in Kalispell for one year.
On Sept. 27, 1968 she married Keith Kenelty at the United Methodist Church in Libby. They made their home in Libby where they raised their two children. She worked as the bookkeeper for Decker Logging for 31 years.
She enjoyed their home and had raked the entire 40 acres. She enjoyed the outdoors, beadwork, cross-stitch and other kinds of craft work, bowling, golfing, lunch with friends and her grandchildren.
Survivors include her husband, Keith Kenelty of Libby; sons, Kevin Kenelty and wife Shawn of Poplar; and Darrin Kenelty and wife Leann of Kalispell; mother, Margaret Decker of Libby; brothers, Charlie Decker and wife Yvonne of Libby; and Mark Decker and wife Debbie of Libby, sister, Esther Parker and husband Mike of Libby; and a special uncle, Les Coffman, of Troy; grandchildren, Brooklyn Olivean, Gracyn and James; and numerous nieces and nephews.  
Services will be Wednesday, July 8 at 11 a.m. at the Libby Christian Church in Libby.
Schnackenberg & Nelson Funeral Home in Libby handled arrangements.
---