Henson sentenced to 5 years in jail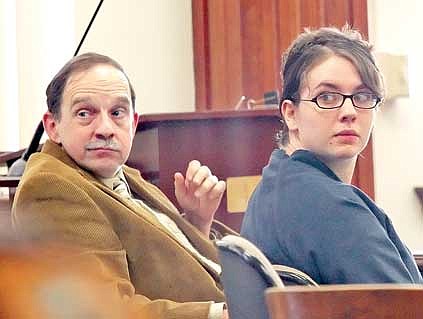 Paul Sievers/The Western News Defense attorney Edmund Sheehy and Heather Henson sit in district court Wednesday during sentencing.
by
Canda Harbaugh & Western News
|
January 28, 2009 11:00 PM
A 19-year-old Kalispell woman was sentenced Wednesday for fatally shooting a 67-year-old man last July in Lincoln County with the alleged help of her boyfriend.  
District Court Judge Michael Prezeau gave Heather Michelle Henson 20 years in prison, with 15 years suspended, for killing Larry Kingsley.
Before announcing his sentence, he noted his sympathy toward the victim's son, Larry Todd Kingsley, who testified at the sentencing.
"I am almost certain that the sentence I hand out today isn't going to be the one you would hand out," he said.
His sentence was harsher than the defense's psychiatrist suggested and more lenient than the 40 years, 10 years suspended, that was recommended in a pre-sentence investigation conducted by  probation officer Steve Watson.
Dr. William Stratford of Missoula testified over the phone about his evaluation of Henson.
"This was a situational circumstance that was extreme," he said, referring to the night of the murder. "I don't believe she is a threat to society."
Prosecutor Robert Slomski cited the fact that Henson testified that she would kill again if in the same situation as a reason why she should be locked up for the suggested 30 years.
"I have to agree (with the post-sentence investigation) based on her judgment," said Slomski. "She testified that she would do the same thing again."
Prezeau stated that Henson made a bad decision by returning to Kingsley's campsite the night of his murder and that she and her boyfriend probably could have gotten away without harming Kingsley.
Then he went on to say the teenagers had good reason to believe that Kingsley was dangerous, based on events earlier in the day and that night.
"The best way to go about this is recognizing that because of decisions Ms. Henson made … a man lost his life, and that's the bottom line," Prezeau said.
Henson will have to complete treatments recommended in the post-sentence investigation, including anger management and chemical dependency, before she will be considered for conditional release.
Henson and her boyfriend Stephen Michael Thomas, who is now 18, admitted to fatally shooting Kingsley last July at a remote Lake Sylvan campground about 30 miles southeast of Libby.
The defense in Henson's seven-day trial asserted that Henson and Thomas feared for their lives while camping in an isolated area with an unstable man who possessed a half-dozen loaded guns.
Henson and Thomas, both homeless, had been staying with Kingsley in his camper trailer in the nights preceding the murder. Kingsley had taken them on shopping sprees in Kalispell and Libby, provided them with alcohol and prescription drugs, and watched and participated in sexual activity with them, according to testimony.
The night of the murder, Kingsley was increasingly possessive of Henson and threatened the lives of Henson and Thomas if they tried to leave.
Henson and Thomas admitted to unloading three guns on Kingsley, leaving at least 10 bullet wounds in his head and neck.
Thomas's trial is scheduled for this spring.
---