Frontier celebrates fiber optic line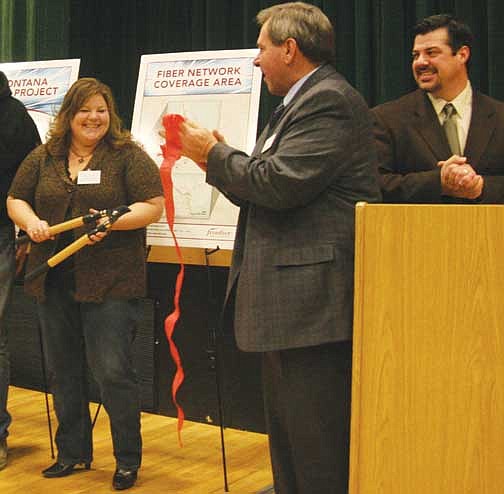 Brandon Roberts/The Western News The Libby Chamber of Commerce's Dusti Thompson, left, clasps the shears used to cut a ribbon held by Mike Towne of Frontier Communications, center, while Jason Moothart, Frontier area manager, claps in approval. The ceremony was held Tuesday at the Memorial Center to commemorate the 20-mile stretch of fiber optic line connecting Libby with Troy and to discuss the potential economic development such infrastructure can bring.
During a celebratory ribbon-cutting ceremony on Tuesday, Frontier Communications had a clear message – proactive telecommunications infrastructure lays the foundation for economic development.
Focusing on three immediate sectors – health, education and business – Frontier demonstrated the capabilities and capacity of their newly installed fiber optic line with testament from St. John's Lutheran Hospital and Flathead Valley Community College's Lincoln County campus in Libby.
"Lives are saved with this system," said Jeannie Gentry, vice president of Allied Health at SJLH. She added that patients have to travel less to receive diagnosis, which in turn saves on patient expenses.
In 2002, FVCC-Libby had an enrollment of 80 students. By 2008, Professor Deb Huesentruit said there had been an increase of 42 percent of online enrollment and a student body of 600. And 20 percent of all Lincoln County campus students are exclusively using online distance learning services.
"We are no longer limited by geography," Huesentruit said. "Through the advent of technology, we have broadened our horizons. With connectivity we can grow."
Jason Moothart, Frontier manager, referred to fiber as the "Cadillac" and "the place to be for tomorrow's applications."
He said the recent 20-mile installation of fiber optics from Troy to Libby expanded capacity by almost 10 times and could allow for speeds around six times faster than previously obtained.
Frontier area General Manager Mike Towne said the new communications is a "blending of lifestyle with technology."
"From an economic development standpoint, people relocating can live the Montana life and still have a viable career," he added.
During a round-table discussion that followed the ribbon-cutting ceremony, Towne said he wants to understand customer needs to anticipate the future.
Libby resident Mike France said some people hold onto an "old-school way of thinking."
He referred to his 13-year-old daughter as the new generation of "technologically savvy kids" and said Frontier is creating a "rich soil" for the youth of Libby with which to work.
"Thinking has to change," France said. "What are the things that will cause people to move here or move away?"
Towne said he wants a visitor's experience in the Kootenai to be "wowable."
Lincoln County Commissioner Tony Berget said the federal stimulus package is moving on Capitol Hill. However he said qualifying projects must be "shelf-ready" to receive funding.
The current stimulus package includes $5 billion to computerize health records and another $6 billion for broadband funding.
Towne said Frontier cannot directly apply for the funds, an agency is responsible for that aspect, but the company is ready to partner in the construction of any future endeavors.
---