Loggers all alone atop conference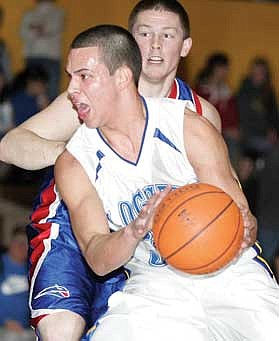 Paul Sievers/The Western News Libby senior Joel Fuller shows his intensity while dishing off to teammate Alex Cislo on Saturday against Bigfork.
It might not have been pretty but the Libby High School boys basketball team stayed atop the Northwestern A on Saturday night with a 49-40 victory over a down Bigfork program.
The Loggers shot just 38.6 percent from the field and lost the battle of the boards but took advantage of Viking turnovers to improve to 4-1 in the conference. Libby is now all alone in first place after Whitefish downed Polson, 66-55, on Saturday.
"I think they outplayed us, I really do," Libby coach Wally Winslow said. "We had some good moments … we had some good looks in the second quarter."
The Loggers trailed 13-9 heading into the second with subpar shooting percentages from both the field and foul line. But during those second eight minutes, Libby began to click and stole momentum with a 10-0 run.
The Vikings went up 19-15 with 4:42 left in the half on a pair of free throws by senior forward Brock Boll. Libby responded with 10 unanswered points and allowed only one more Bigfork field goal the rest of the half.
During that game-turning run, Conner Benson sparkled with three straight field goals. Alex Cislo and Kelly May also found the net to help LHS take a 25-21 lead by halftime.
"They're better than their record shows," Winslow said. "We were fortunate to win."
In the third quarter, Bigfork continued to hang around and trailed by just four points after a hoop from Scott Taylor. Libby came right back, however, and took a 38-32 lead at the buzzer when junior Nate Broden scored on a nice feed from Conner Benson.
The Loggers built on that momentum and pulled away through the first four minutes of the fourth quarter. Libby took its first double-digit lead of the game at the 4:30 mark on a bucket by Benson. The Logger advantage grew to 13 points at 4:10 when Joel Fuller hit a pair of foul shots.
The Vikings, coming off their first victory of the season on Thursday against Flathead, closed the gap somewhat with five straight points in quick fashion to pull to within 47-39. Libby's defense took over from there and kept Bigfork off the scoreboard for 3:19 of clock time in the late going.
Benson had a big night with 10-of-19 shooting for 21 points. Inside, Cislo got some hard work done with 12 points and eight rebounds.
The Vikings made 13-of-18 free throws compared to Libby's 3-of-8. Bigfork's advantage at the free-throw line along with timely rebounds kept them in the game. The two teams combined for 34 fouls.
"It was a physical game both ways," Winslow said.
Earlier in the week on Thursday, the Loggers dropped a 59-47 decision to Class AA Glacier in Kalispell.
Libby trailed just 13-12 after the first quarter but the Wolfpack began to pull away in the second leads of 30-21 at the break and 46-31 heading into the fourth.
Benson scored 16 points on six field goals and a pair of free throws to lead the Libby offense. Cislo scored 13 points and grabbed nine rebounds.
Ben Cutler scored 22 points for Glacier. Shay Smithwick-Hann had a double-double with 11 points and 11 rebounds.
Libby will next play host to nonconference foe Eureka on Friday night at 7:30. Then on Saturday, the Loggers head to Whitefish in another key conference matchup.
"Our motto now becomes 'road warriors,'" Winslow said.
It Was Over When …
Libby went on a 6-0 run to take a 47-34 lead midway through the fourth quarter. Bigfork attempted to rally but the Logger lead was really never in danger. During that mini-run, Alex Cislo, Conner Benson and Joel Fuller scored.
Game Ball
Conner Benson was on fire with 10-of-19 shooting – including one 3-pointer – for 21 points. Benson scored 14 points in the first half alone on 7-of-12 shooting.
Stat of the Game
Libby only slightly shot better than Bigfork from the floor (39-38 percent), made 10 fewer free throws and had 12 fewer rebounds. Yet, the Loggers won the game by nine points. Libby had a 57-34 advantage on shot attempts.
Loggers 49, Vikings 40
Saturday at Libby
Bigfork (40)
Pewe 1 2-3 5, Dalgle 1 0-1 2, Boll 5 0-1 10, Milner 1 4-4 6, Taylor 3 1-2 7, Evans 0 2-2 2, Tudahl 0 0-0 0, Hansen 0 0-0 0, Richmond 2 4-6 8, Jordt 0 0-0 0. Totals 13 13-18 40.
Libby (49)
C. Benson 10 0-0 21, May 3 0-0 7, Fuller 1 3-4 5, Cannon 1 0-1 2, Cislo 6 0-3 12, Maloney 0 0-0 0, Broden 1 0-0 2. Totals 22 3-8  49.
Three-Pointers–Bigfork 1 (Pewe), Libby 2 (C. Benson, May). Rebounds–Bigfork 37 (Boll 9), Libby 25 (Cislo 8). Assists–Bigfork 5 (Milner 2), Libby 13 (Fuller 6). Total Fouls–Bigfork 14, Libby 20. Fouled Out–Taylor, Cislo. Technical Fouls–None.
Wolfpack 59, Loggers 47
Thursday at Kalispell
Libby (47)
C. Benson 6 2-2 16, May 3 3-4 9, Fuller 3 2-5 8, Cannon 0 1-2 1, Cislo 6 1-2 13. Totals 18 9-15 47.
Glacier (59)
Doty 3 1-2 9, Fuller 2 0-0 5, Smithwick-Hann 4 3-5 11, Hanson 2 0-0 4, Wilson 1 0-1 2, Cutler 9 3-4 22, Grosswiler 1 1-2 3, Sansaver 1 1-2 3. Totals 23 9-15 59.
Three-Pointers–Libby 2 (Benson 2), Glacier 4 (Doty 2, Fuller, Cutler). Rebounds–Libby 36 (Cislo 9), Glacier 32 (Smithwick-Hann 11). Total Fouls–Libby 18, Glacier 18. Fouled Out–None.
---