Club embraces Scandinavian culture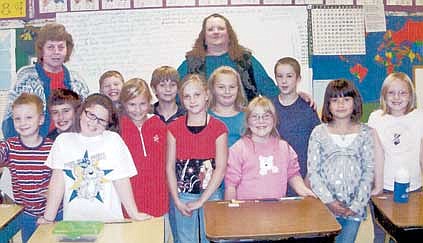 Courtesy/Joan Sonju The FINDerS Club includes from left, front, Colton Tubb, Kristel Donahue-Filler, Isabelle Martineau, Alyssa Marshall, Clareissa Johnson, Abby Creighton and Laurynn Lauer; middle, Takoda Keiper, Ethan Hoff, Scotty Hayes, Ashlyn Hoff and Tyler Lucas; back, club adviser Freda Howard and teacher Chrys Marchant.
|
January 26, 2009 11:00 PM
The Western News
Scandinavian culture has enveloped a group of third-grades at Kootenai Valley Christian School in Libby.
The FINDerS Club formed last April under the direction of Freda Howard, president of the Sons of Norway and a Nordicfest board member. The capital letters in FINDerS are a reference to the five Scandinavian countries – Finland, Iceland, Norway, Denmark and Sweden.
Students in a class taught by Chrys Marchant have learned about their roots, countries and Norwegian and Swedish Christmas traditions. In addition, they've sampled foods, including Norwegian lefse, Swedish hamballs and Danish cookies.
For those of Scandinavian descent with an interest in sharing their knowledge with the class, call Howard at 293-3386. The club meets at 2 p.m. on the third Wednesday each month during the school year.
---