Logger defense shines in win at Troy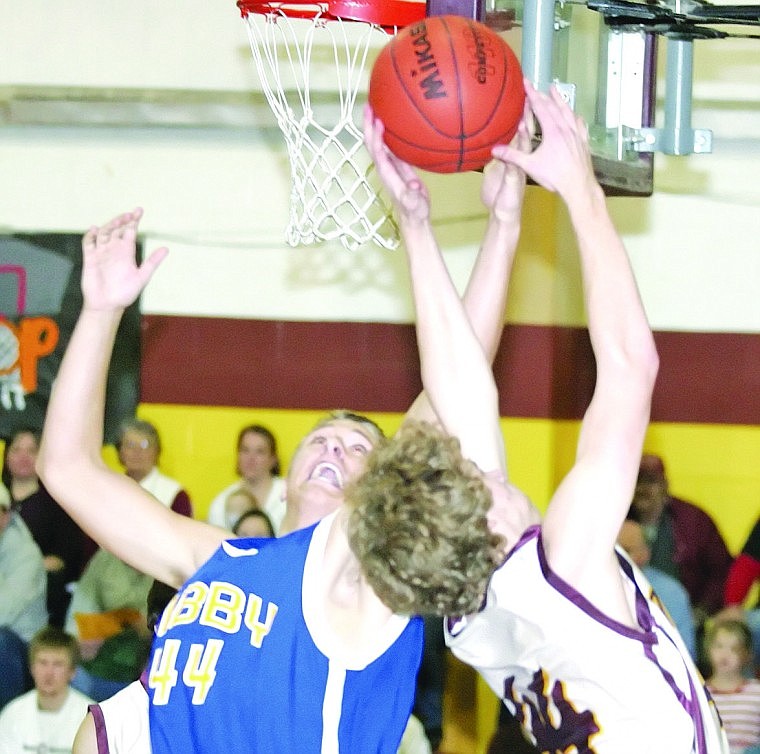 Logger defense shines in win at Troy
by
Brad Fuqua & Western News
|
January 19, 2009 11:00 PM
Heading into the second quarter and trailing by a bucket, the Libby High School boys basketball team seemed to flip its defensive "on switch" in a nonconference battle at Troy.
The Loggers went on a 12-3 run and allowed only one Trojan field goal over the course of the second quarter en route to a 46-33 win.
"I attribute that to Libby's superb defense," Troy head coach Tony Smith said about his team's offensive struggles in the second and third quarters. "It was a battle all night to create opportunities. Libby is really quick."
The Trojans looked good early and had the visiting Loggers playing their game in the first. Troy was doing well on glass, creating opportunities and getting looks. Neither team shot particularly well, which held true throughout the game.
"We just really struggled creating opportunities," Smith said. "I was very encouraged that they showed signs that they can come back."
Libby (6-2) tied the game 10-10 just over a minute into the second quarter when Alex Cislo grabbed an offensive rebound and scored. Cislo's hoop was an indication of things to come as the Loggers started to find holes in Troy's zone defense.
"We got a guy inside," Libby coach Wally Winslow said. "It's hard to keep tempo up when playing a team like Troy."
The Trojans (7-2) didn't score from the field in the second quarter until 2:32 showed on the clock. Troy senior Shado Garrett hit a jumper to cut Libby's lead to 16-13. Kelly May came back with a bucket at 1:50 and that would be it for the first half.
The defensive units on both sides were dictating the outcome. Combined, Troy and Libby shot just 30.4 percent from the field. Neither team got to the free-throw line much and each side had 15 rebounds. Still, Cislo made some noise with points and boards and Colton Cannon was also playing well for the Loggers.
"Cannon and Cislo played a great game," Winslow said. "That was Colton's most complete game."
In the third quarter, Libby began to click and built a 13-point lead over those eight minutes. Cannon scored nine of his 12 points in the third quarter alone.
Then in the fourth, the Loggers pulled away for good with a 7-0 run after the Trojans had gotten back to within 10. May scored on two hoops and Conner Benson had a field goal and free throw to give the Loggers a 39-22 advantage.
The Trojans showed no quit, however, and put together a 9-0 run of their own. Jesse Day hit two free throws, Garrett scored five straight points with a two and a three, and Aaron Palmer finished to bring Troy's deficit down to 39-31 with 2:09 remaining.
Following a timeout to regain its composure, Libby came out and scored four points to ice the victory. The clincher came on a 3-pointer by Benson.
Cannon's 12 led the way offensively with 11 from May and 10 by Benson. Cislo finished with a dozen rebounds.
Garrett scored 11 points for the Trojans and Palmer added 10 points and 12 rebounds.
It Was Over When …
Libby's Joel Fuller hit a free throw and Kelly May nailed a 3-pointer following a timeout in the game's final two minutes. Troy had rallied to cut its deficit to eight until the Loggers could respond.
Game Ball
The Loggers' Colton Cannon shot 50 percent from the field for 12 points, including a key 3-pointer when Libby started to pull away during the third quarter.
Stat of the Game
Four players had nine or more rebounds with Libby's Alex Cislo and Troy's Aaron Palmer each grabbing 12, and the Trojans' Shado Garrett and Brian Hammrich each getting nine.
Loggers 46, Trojans 33
Thursday at Troy
Libby (46)
C. Benson 4 1-2 10, May 5 0-2 11, Fuller 1 3-4 5, Cannon 5 1-2 12, Cislo 2 2-2 6, Broden 0 2-2 2, Maloney 0 0-0 0, Craig 0 0-0 0, Stapley 0 0-0 0, Nelson 0 0-0 0. Totals 17 9-14 46.
Troy (33)
Kyriss 0 0-0 0, Garrett 5 0-0 11, Palmer 4 2-5 10, Hammrich 3 0-0 6, Day 2 2-2 6, Jones 0 0-0 0, Rebo 0 0-0 0, Powell 0 0-0 0. Totals 14 4-7 33.
Three-Pointers–Libby 3 (C. Benson, May, Cannon), Troy 1 (Garrett). Rebounds–Libby 33 (Cislo 12), Troy 33 (Palmer 12). Assists–Libby 6 (Cannon 4), Troy 3 (Garrett, Day, Jones). Total Fouls–Libby 10, Troy 11. Technical Fouls–Kyriss.
---