Lady Loggers split pair in Northwestern A play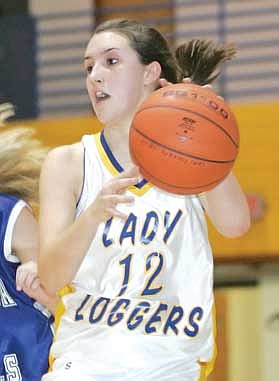 Paul Sievers/The Western News Libby's Evi Cernick brings the ball downcourt vs. Columbia Falls.
by
Brad Fuqua & Western News
|
January 12, 2009 11:00 PM
Heading into the fourth quarter, the Libby High School girls basketball team had struggled offensively with a 19.4 shooting percentage. But somehow, the Lady Loggers stayed in the game and nearly came up big to steal a Northwestern A victory.
But in the final two minutes, the turnover bug hit hard and the Wildkats escaped with a 40-33 victory.
"We were down by three forever there at the end," Libby coach Jim May said. "We had steals, the press was working, and they were panicking. Then we'd dribble it off our elbows or make on extra pass we shouldn't have."
Columbia Falls never trailed after the first few minutes of the opening quarter. But the Wildkats could not put away the Loggers and things got very interesting late. After leading 36-28 with 5:25 remaining on a hoop by Alyssa Ladenburg, Columbia Falls saw its advantage dwindle down to three points.
First, Libby junior LaRona Luscher scored and then junior Evi Cernick hit a free throw to cut the Logger deficit down to five. With 2:43 left on the clock, Cernick scored on a fast-break basket after a steal by Brittany Martin.
Over the next minute, the Loggers stole the ball three times but could not capitalize. Kelsey DeWit hit a pair of free throws and then McKenize Reeve scored to put the game away.
Libby just could not get its offense rolling against the Columbia Falls defense.
"They have confidence in that 1-2-2 zone they run and it's not very often that we have wide open shots," May said. "I don't remember us taking too many bad shots. If the kids are open, you've got to let them shoot. We had opportunities."
Libby scored the game's first four points on a hoop and two free throws by Jackie Mee. But Columbia Falls countered with a 7-0 run highlighted by a Reeve 3-pointer. The Wildkats never trailed the rest of the way.
Mee led the Lady Loggers with 16 points on three field goals – including one 3-pointer – and 9-of-10 free throws. She also had 13 rebounds.
Kelsey DeWit had 16 points and 10 rebounds for the visitors.
The Lady Loggers followed on Saturday night with a better outcome by defeating Ronan, 49-23.
Libby led just 18-11 at the break but pulled away in the second half to win by 26 points.
"There were some kids who were pretty upset with the way they played Friday night. They were disappointed," May said. "Brittany Martin came out and had eight steals and 12 points and Jaime Gilden had a bunch of steals. We outscored them 31-12 in the second half."
Mee led the way with 21 points. Martin chipped in 12.
The Lady Loggers, now 2-1 in Northwestern A and 4-3 overall, head to Class B Troy on Friday. Junior varsity play begins at 4:15 p.m. Libby then plays host to Polson on Saturday with varsity action slated for a 6 p.m. start.
It Was Over When …
Columbia Falls' Kelsey DeWit made a pair of foul shots on a 1-and-1 opportunity with 38 seconds remaining for a 38-33 lead. Libby had its chances down the stretch but turnovers killed the effort.
Game Ball
Lady Loggers' junior Evi Cernick continues to evolve in her role with the starting lineup. Cernick hit a pair of field goals and free throws for six points.
Stat of the Game
Libby's Jackie Mee converted on 9-of-10 free throws to keep the Loggers within striking distance. Libby made just 10 field goals for the game and needed success at the foul line to stay close.
Wildkats 40, Loggers 33
Friday at Libby
Columbia Falls (40)
Reeve 5 0-0 11, Kyl. DeWit 1 1-2 3, Ladenburg 4 0-0 9, Grilley 0 0-1 0, Klsy. DeWit 7 2-2 16, Cady 0 0-0 0, Gilley 0 1-2 1, Knudsen 0 0-0 0, Stratton 0 0-0 0. Totals 17 4-7 40.
Libby (33)
Cernick 2 2-4 6, Luscher 3 0-1 6, B. Martin 1 0-0 3, Gilden 1 0-3 2, Mee 3 9-10 16, Best 0 0-0 0. Totals 10 11-18 33.
Three-Pointers–Columbia Falls 2 (Reeve, Ladenburg), Libby 2 (B. Martin, Mee). Rebounds–Columbia Falls 36 (Klsy. DeWitt 10), Libby 36 (Mee 13). Assists–Columbia Falls 8 (Ladenburg 4), Libby 8 (B. Martin 3, Gilden 3). Total Fouls–Columbia Falls 17, Libby 10. Technical Fouls–None. Fouled Out–Gilden, Kyl. DeWitt.
Loggers 49, Maidens 23
Saturday at Libby
Ronan (23)
Cheff 2, Larsen 4, Strozzi 4, Starkel 6, Michael 2, Belgarde 5.
Libby (49)
B. Martin 12, Gilden 9, Best 6, Mee 21, Shaw 1.
---