Trapping continues its regional presence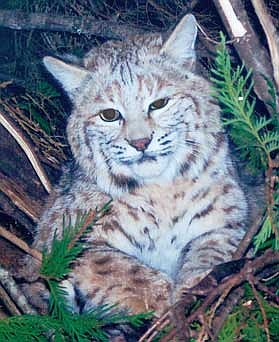 Courtesy Photo Trapping continues to survive through the generations. Above, a northwestern Montana bobcat.
by
Brandon Roberts & Western News
|
January 7, 2009 11:00 PM
More than 200 years ago, map maker and trapper David Thompson arrived in the valley while following the Kootenai River. With him came the Northwest Fur Co.
Thompson arrived in what would later be the town site of Libby and established his trapping and fur trade which existed from 1808-21 before he headed on with his travels and sold the company.
The earliest European settlers in the Northwest were explorers and trappers, creating a lasting identity in the coming generations and in the woods.
"I would stay out at times for two or three months running line," longtime trapper John Spoonmore said. "It was like I was the only person in the world, above the clouds."
Spoonmore spent much of this time in the Cabinet Mountain Wilderness scouting, surveying and trapping. He now speaks of a changing environment – how the woods at one time were open, less regulated and trappers envisioned the whole picture, knowing respect instead of ignoring it.
"You knew who trapped in areas and you stayed out of those places," he said. "It is more important to leave seed than to take what you want. It is like farming. We would take track surveys and set our own quotas."
Spoonmore has placed a good number of his traps in the same spots for more than 25 years. On many occasions, he's come upon other traps not 10 feet from his own.
"It used to be traditional courtesy, to realize what you are doing," Spoonmore said. "There are a lot more trappers out here year by year and it is putting a lot of pressure on everything. If we didn't know, we asked permission."
Spoonmore has been invited to give presentations at national trapping conventions, one of which was recently held in Blackfoot, Idaho.
Snowshoeing is his preferred mode of running a line, but he said those who are really trying to make a living off trapping often use snowmobiles.
Trapping has its critics with some frowning upon the practice as animal cruelty.
"People think you are being mean to animals," he said. "Nature can be cruel."
When setting traps, Spoonmore pays attention to weather patterns. He uses foothold traps most of the time to capture bobcat and fisher. He said a toe-catch is ideal for the animal and the pelt.
He said there is still a strong market for fur, especially in the fashion industry and with the North American Free Trade Agreement established during the Clinton administration. Some of his catch is sent to Edmonton, Alberta.
Spoonmore began trapping as a child in Missouri and after his tour in Vietnam, he relocated to the Idaho panhandle and then to the Kootenai in 1980.
"I was very fortunate and got to know some old-timers that spent their lifetime trapping these parts," he said. "I had coaches who taught the old ways and I was able to learn and pick their brains."
This is his hope for the new generation. Spoonmore appreciates seeing the youth trapping but hopes they will heed the wisdom of their predecessors.
---