Hospice volunteers log record hours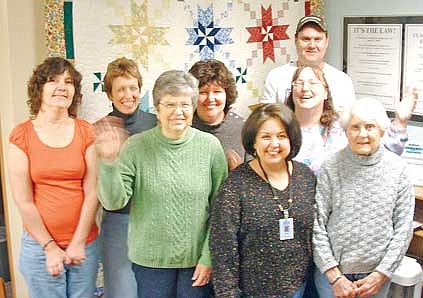 Courtesy Photo St. John's Hospice volunteers attending their February meeting included, from left, front, Nancy Chalgren, Lillian Martin and Bev Faria; middle, Sally Moots, Pam Rhodes, Lois Thatcher and Patty Kramer; and back, Dan Kately.
|
February 23, 2009 11:00 PM
The Western News
St. John's Hospice volunteers donated a record 356 hours of direct care to patients and their families and 279 hours on activities in 2008, officials announced last week.
"One of the things that strikes me about this group is that they are so up-beat and positive," said registered nurse Sheree Comer. "They are really passionate about helping others, and about communicating their enthusiasm for that passion to the wider community."
Hospice volunteers fill a variety of roles in caring for seriously ill individuals and their families.
The program is planning an upcoming annual information and training series to potential volunteers.
For more information, call Laura Sedler at 293-0180.
(For the complete news releases on this topic, go online to: thewesternnews.com , click on "News" and scroll down to the list of Press Release Central items).
---