Merlin B. Buhl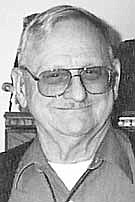 |
February 18, 2009 11:00 PM
Merlin B. Buhl, 83, died Saturday, Feb. 14, 2009 at Sacred Heart Medical Center in Spokane, Wash.
He was born on Feb. 18, 1925 at Butte to Fred and Mae (Hills) Buhl.
He served his country
both in
World War II and Korea teaching electronics and radar. During his station in Denver, Colo., he met Eula Surratt.
They were married on Feb. 22, 1951, and they would have been married 58 years.
He spent 15 years at the HSPH experiment lab helping with cancer research. He drove a school bus for Superior, Corvallis and Stevensville for 30 years. He enjoyed sharing stories of Butte, hunting, fishing, cooking and baking. He was also known as a man who lived for the fellowship of his church and the annual church conventions.
He was preceded in death by his parents, Fred and Mae; brothers, Orris Buhl, Kenneth Buhl and Thelma Cloud; and a granddaughter, Kassandra Buhl.
Survivors include his wife, Eula Buhl, Troy; four children, Leanna Faye Smith (Lary); Mary Alice Buhl; Urie Wayne Buhl (Michelle); and Merlin B. Buhl, Jr. (Sheri); sisters, Gladys Jimeno, Corvallis.; and Mertis Thomas, Portland, Ore.; two brothers, Orphus Buhl, Kellogg, Idaho; and Orvil Buhl, Corvallis; 11 grandchildren; 16 great-grandchildren; and many nieces and nephews, and close friends.
Services will be Saturday, Feb. 21 at 10 a.m. at the Schnackenberg & Nelson Funeral Home in Libby. Viewing will be Friday, Feb. 20 from 4-8 p.m. at the funeral home.
---